If you hang around here long enough, it might seem like a never-ending parade of bowls for breakfast, lunch and dinner. Why is that? Because bowls are easy to meal prep and assemble as you need them! And this Quick Spicy Bean and Potato Bowl is no exception.
Beans, greens, and a grain are the vegan trifecta for a quick and easy meal. But what if I told you that this combo works with potatoes in place of the grain? It doesn't just work - it's fantastic!
But I thought potatoes were bad for you?
Image by Marko Paakkanen from Pixabay
A potato itself is a fine part of most people's diets. It becomes unhealthy when you top it with high-fat foods like butter, cheese, or sour cream. Or, when you cut it into pieces and deep fry it. Don't take my word for it. See what the Cleveland Clinic has to say about potatoes.
But, you can make a potato just as tasty by topping it with well-seasoned ingredients. And the Ro-Tel Diced Tomatoes with Green Chilies is a great shortcut to that flavor. You can even get it in a no-salt version!
Oh, and potatoes are wonderful for budget-friendly meals. A five pound bag usually costs me around $2.50. I always keep some around. They're great for extending leftovers when you don't quite have enough for a meal.
How do you meal prep this Quick Spicy Bean and Potato Bowl?
There are a few ways to meal prep this recipe.
First, you want to get the potatoes cooked. There are three main ways to do that: microwave, pressure cook, or bake. I describe how to do each in the recipe below. Honestly, I almost never bake whole potatoes because it takes too long and heats up the RV too much.
How do you microwave a raw potato?
First, scrub the potato well under running water. I use a vegetable brush.

Next, poke the potato with a fork all over about a dozen times. This is to let the steam out and keep it from exploding.

Then, put it on a microwave safe plate and cook on high for about 5 minutes for a medium sized potato. If you cook multiple potatoes at once you'll need to add some time.

When the timer goes off, flip it over and cook it for another 5 minutes. When the timer goes off, if it feels soft, it's done. If it is still firm, give it another minute or so.
You can also cook the greens in the microwave. That's what I do because it's simple. Put the greens in a bowl with a couple of tablespoons of water. Cover the bowl loosely and microwave on high for 3-4 minutes.
The bean mixture just cooks up in a skillet.
You have two options for storing this meal to eat later. You can put the potatoes, greens, and bean mixture in separate containers like I did here.
Or, you can assemble each meal in its own container with potato on the bottom, beans and greens on top. Then you'll heat it up in the microwave for 2-3 minutes when you're ready to eat.
Easy to find ingredients
Another thing I love about this recipe is that the ingredients are easy to find or easy to substitute.
If you can't find Ro-Tel brand tomatoes, use the diced tomatoes with green chilies that your store carries.
No collards? Use kale, or even spinach. Heck, you can even substitute the potatoes with your favorite kind or even sweet potatoes.
Fresh cilantro isn't available? Skip it or top your bowl with your favorite prepared salsa. It'll likely have cilantro in it and will help with flavor you might be missing without it.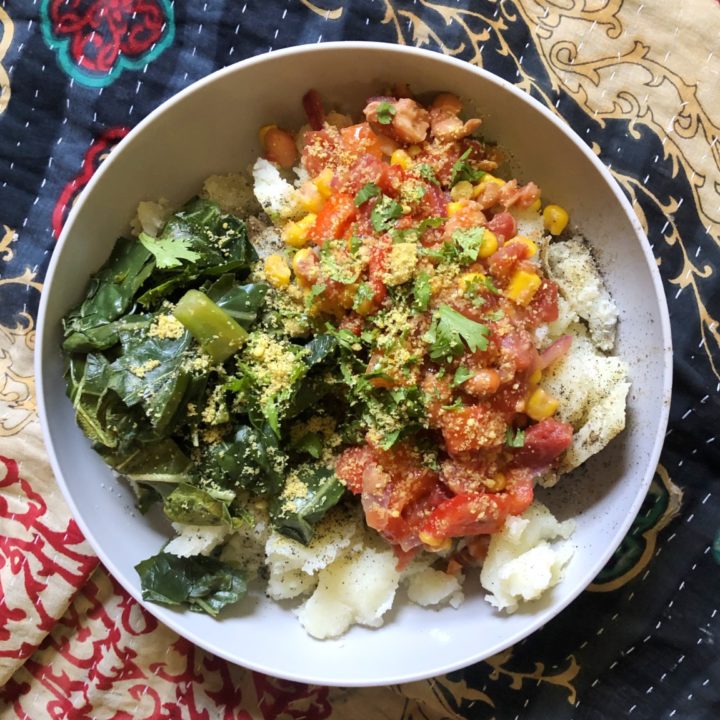 Quick Spicy Bean and Potato Bowl
A filling and tasty meal that comes together quickly and reheats like a dream.
Ingredients
4 medium Russet potatoes scrubbed (850-900g)
4 cups collards, fresh or frozen, or use kale (144g)
1/4 cup red onion, diced (40g)
1 (15-ounce) can pinto beans drained, rinsed, and about 3/4 mashed (leave a few whole beans) (425g)
8 ounces frozen corn, or fresh if it's in season, cut from cobb (226.8g)
1 red bell pepper, diced (149g)
1/4 cup Fresh cilantro for garnish (4g)
Hot sauce, to taste
Vegan parmesan, optional
Instructions
Cook the potatoes however is easiest for you. To microwave, poke clean potatoes all over with a fork. Place on a microwave-safe plate and cook on high for about 5 minutes on each side. Or, if your microwave has a baked potato setting (mine does and it works great!) use that. To cook in the Instant Pot, add a cup of water to the insert. Add a rack that will keep the potatoes out of the water. Put potatoes on the rack, close the lid to seal, and cook on high pressure for about 15 minutes. Let pressure release naturally. Or preheat the oven to 375°F. Put the potatoes directly on the oven rack and bake for 45 minutes to 1 hour, or until they can be easily pierced with a fork.
Put the greens in a microwave-safe bowl, add a splash of water, and loosely cover with a lid or plastic wrap. Microwave on high for 4 minutes. Drain and set aside.
Start a large non-stick skillet over medium-high heat. Add the onions and cook until softened. Add water a tablespoon at a time to prevent sticking, if needed. Add the beans, Ro-Tel tomatoes, corn, and bell pepper to the pan. Turn heat down to medium and continue cooking until heated through and pepper starts to soften.
Grab four bowls. Add one of the potatoes to each bowl and chop it up into fork-sized chunks. Top each with a quarter of the greens and a quarter of the bean mixture. Garnish with cilantro, your favorite hot sauce, and parmesan, if using.
Notes
This makes a great meal prep recipe. Store each serving in its own meal prep container and heat it up in the microwave for 2-3 minutes. Or, store leftovers separately and combine when ready to eat.
I like to make my own vegan parmesan but you can also buy it.
Inspired by a recipe from Forks Over Knives.
Nutritional information was calculated using a salted version of tomatoes. If you use no-salt-added tomatoes the sodium content will be less. As always, nutritional information is only meant to be a guide.
Recommended Products
As an Amazon Associate and member of other affiliate programs, I earn from qualifying purchases. Purchases through my links will not cost you any extra and contribute to supporting the costs of running this site.
Other meal prep recipes you might enjoy
What hot sauce are you going to use on your Quick Spicy Bean and Potato Bowl? Do you like Frank's, Crystal, Tabasco, or something else?