Many people think that by eating a salad they are automatically having a healthy meal. While all the raw veggies are great, it really depends on what you put on top of the salad. Keep your salad fresh, light, oil-free and tasty with this easy Raspberry Balsamic Dressing.
Original vs. Plant Based Ranch Dressing
Now, I don't mean to pick on ranch dressing. Ranch is delicious! But the standard store-bought dressing that most people buy and slather their salads with is packed with fat and calories. And the new plant based version isn't much better.
Let's look at them side by side.
Two tablespoons? Maybe on a side salad. But if you use more you can easily see how that salad all of a sudden has almost as many calories as a meal.
This Raspberry Balsamic Dressing clocks in at 36 calories for 1/4 cup. (Nutritional information is below the recipe) It is fat free, has minimal sodium, and contains fiber and Vitamin C. Heck, it even has more protein that both of the ranches above!
More Healthy Salad Dressing Recipes
How easy is this recipe?
Okay, I know it's annoying to have to make everything you eat. But this dressing is very easy. All you need is a blender and a small Nutribullet type with a small blender cup will do.
We all know that berries can be delicate and aren't always in season. That's why I've chosen to use frozen ones in this recipe. That makes it easy to keep all of these ingredients on hand so you can prepare this dressing whenever you need it.
If fresh berries are in season and available to you, by all means use them! This dressing is particularly nice in warmer months but frozen fruit makes it available to you year round.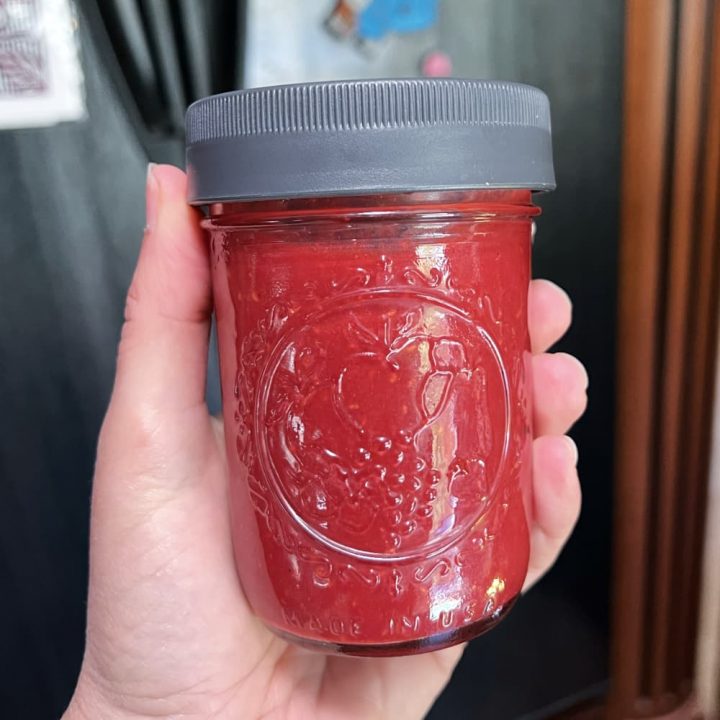 Raspberry Balsamic Dressing
A light refreshing dressing for summer salads.
Ingredients
1 cup frozen raspberries
2 tablespoons balsamic vinegar
2 teaspoons maple syrup
2 teaspoons dijon mustard
freshly ground black pepper
Instructions
Put all ingredients into a blender and blend until as smooth as possible. Recipe will fit in a blender cup like a Ninja. Refrigerate and use within a week.
Notes
Also good with frozen strawberries. You can use fresh berries when in season.
Recommended Products
As an Amazon Associate and member of other affiliate programs, I earn from qualifying purchases. Purchases through my links will not cost you any extra and contribute to supporting the costs of running this site.
Do you prefer creamy or fruity salad dressings?