Did you think that when you decided to stop eating animal products that you'd never have gravy again? I'm here to tell you that gravy is alive and well in a plant based diet. And with this 5 Minute Simple Brown Gravy, it doesn't even have to be relegated to special holidays.
In fact, this vegan gravy is both easy and healthy enough to be part of your regular meal planning. It's vegan, duh, but also oil-free and gluten-free. The sodium is a little up there but you can bring it down by substituting your favorite low-sodium soy sauce option.
Oh, but I haven't mentioned how easy this gravy is yet. This gravy comes together so fast you'll want to make it last after everything else you're making is ready. And guess what? All the ingredients are pantry items. So you're all set for impulse gravy!
Okay, enough yammering on about it. Let's get to that simple recipe.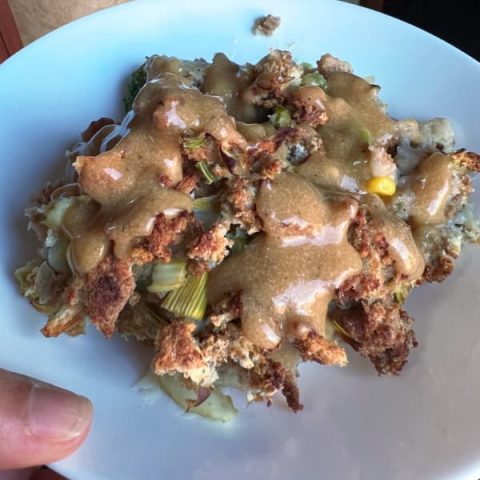 5 Minute Simple Brown Gravy
This simple brown gravy is oil-free and gluten-free and comes together so fast and tastes so good you'll never use a packet again.
Ingredients
2 tablespoons cornstarch
3 tablespoons Bragg Liquid Aminos, or tamari, or soy sauce
1 ½ cups of water
½ teaspoon garlic powder
¼ teaspoon ground black pepper
2 tablespoons tahini
Instructions
In a small saucepan, whisk cornstarch and Bragg Liquid Aminos together until smooth. Gradually whisk in the water, garlic powder, and ground black pepper.
Heat over medium-high heat whisking constantly until the mixture boils and begins to thicken.
Remove from heat and whisk in the tahini. Serve immediately or keep warm until serving.
If you have leftovers, store them in the refrigerator and heat up in the microwave. It's delicious on potatoes!
Notes
If you want an extra flavor boost, use vegan chicken-flavored broth instead of the water. If you need to lower the sodium, choose a low-sodium version of the liquid aminos, tamari, or soy sauce.
Recommended Products
As an Amazon Associate and member of other affiliate programs, I earn from qualifying purchases. Purchases through my links will not cost you any extra and contribute to supporting the costs of running this site.
Are you a gravy fan? What's your favorite way to use it? Do you save gravy for special occasions and holidays or is it part of the regular rotation in your meals?