I'm no stranger to tahini dressings. In fact, tahini is an addition that often pops up when you're trying to avoid added oil. But this Sweet Tahini Dressing got Kevin excited about salad. Oh, and it's gluten-free, too!
A versatile oil-free dressing
The little bit of sweetness from the maple syrup really knocks off the bitter edge that tahini can sometimes have. We love using this dressing on salads and bowls. It's particularly good on sweet potatoes. Because it's simple, you can use it in many ways. It's not anchored to any particular cuisine.
If you use this sweet tahini dressing with only three added tablespoons of water it will still be fairly thick, especially just out of the fridge. Just thin it with water until it's the consistency you want.
How to reduce the calories of this dressing
At four servings, this recipe is a bit high in calories for some people. You will probably get 6 servings out of this recipe and you can thin it even more if you're counting calories.
No blender needed!
The best part about this recipe is that you don't need to bust out a blender. You can just stir it together in a bowl. This makes it easy for you to make at meal time, if needed, but it also keeps well in the refrigerator if you would rather make the dressing ahead of time for meal prep.
There's also a video below the recipe card showing just how easy this dressing comes together.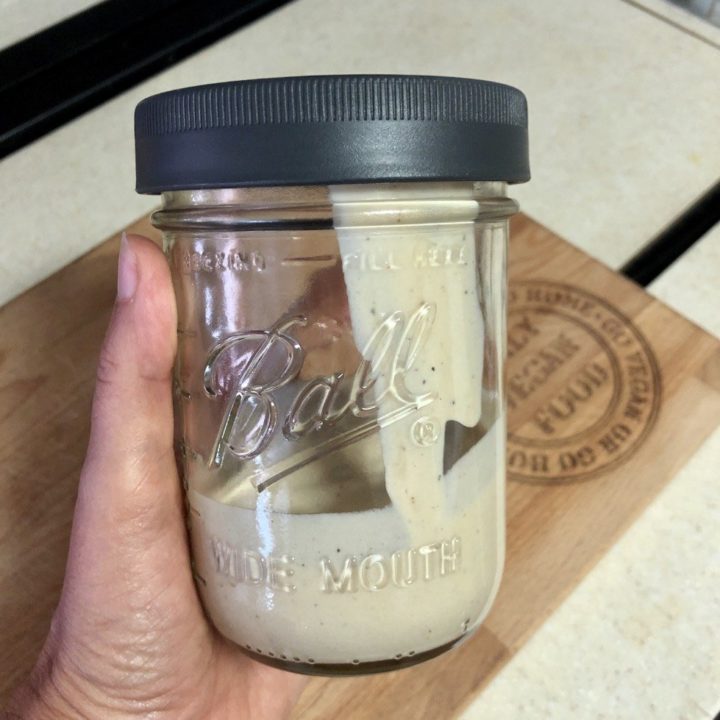 Oil-free Sweet Tahini Dressing
This delightfully sweet tahini dressing will satisfy your craving for a creamy salad dressing and you can whip it up without a blender.
Ingredients
1 clove garlic minced, about 1 teaspoon, (2.83 g)
1-2 Tbsp maple syrup or agave (19.69 g)
3 tablespoons lemon juice (46.5 g)
1 pinch salt (0.76 g)
1 pinch ground black pepper (0.29 g)
3 tablespoons water to thin (45 g)
Instructions
Mince the garlic and set it aside.
Add tahini, maple syrup, lemon juice, apple cider vinegar, salt, and pepper to a small bowl. Stir until smooth.
Add 3 tablespoons of water and stir to incorporate. If you like a thinner dressing, add more water until you get the consistency you want.
Stir in the garlic. Taste and add salt or pepper if necessary. The garlic flavor will become more pronounced as it sits.
Refrigerate until needed, for up to 5 days. You may need to thin with more water after refrigeration.
Notes
Nutritional information was calculated with Cronometer using 4 servings and the lesser amount of maple syrup.
Recommended Products
As an Amazon Associate and member of other affiliate programs, I earn from qualifying purchases. Purchases through my links will not cost you any extra and contribute to supporting the costs of running this site.
Is tahini a staple in your pantry like it is mine? What's your favorite way to use it?