Meal planning for your own kitchen is one thing. You know what equipment you have and what's in the pantry. But what if you have to go out of town and stay with family that doesn't eat the same way you do?
I recently found myself in that predicament. I went to visit my mom for a week and she doesn't eat the way that I do. She definitely doesn't keep the same staples in her refrigerator and pantry.
For example, on one visit in the past, I had to buy soy sauce. It's such a staple for me it's hard to imagine someone not having it in their pantry but not everyone eats the same. She definitely doesn't stock miso paste, gochujang, tahini, and many other things I use all the time.
So here's how to go about meal planning when you're visiting family that doesn't share your diet.
Do some research
Through the magic of the internet, you can often do a little pre-shopping at grocery stores near your destination.
I know there's a Walmart not far from my mom's, so I browsed their website for vegan items available in that store. That gives me a basic idea of what I will have available.
It turns out, she had a Kroger right down the street, too. And I'm very familiar with what options most Kroger stores have for me.
Keep it simple
I don't want to buy a bunch of stuff she's never going to use. And you might be in the same situation. So how am I going about meal planning for this visit to a "foreign" kitchen?
First, I'm going to rely on convenience foods, albeit the healthiest ones I can manage. Canned beans, frozen veggies, microwavable rice or grain packets, and dressing are all on my list.
Since I lean more towards a whole-food plant-based diet, I'm going to avoid pre-made sauces unless I can find ones that limit oil, sugar, etc. But there are loads of pre-made sauces on the market that might work for you.
Frozen meals and processed foods aren't that healthy either. The sodium level is usually sky high. But you can do some interesting things with frozen vegetables which are perfectly fine.
What's on my list?
Below are the meals I planned for my visit. And since I'm writing this from the future I can tell you that I pretty much stuck to this.
What I didn't anticipate was that we all ate most lunches and dinners together. So I had one or two people eating the same meals that I did. It meant a couple of extra trips to the store to restock salad veggies but I didn't mind at all.
So here's what I planned and ended up eating during this trip.
Breakfast
Oatmeal
Every morning I'll have microwave oatmeal for breakfast just like I do at home. Done. It won't have all the things I put in it here but it'll be fine.
Lunch/Dinner
Lunch foods and dinner foods are completely interchangeable for me. So any of these options will work for lunch or dinner. I actually try to eat my heaviest meal for lunch instead of dinner whenever possible.
Easy Beans & Greens
Hoo boy, this is not a pretty dish But it is tasty and dead simple. And all the ingredients are from the pantry or freezer. No special equipment is needed. It's got protein, fiber, leafy greens, no added oil and is low in sodium. (Turns out, my mom loved this meal!)
To keep things simple, I'll pick up microwavable packets of quinoa, brown rice, or another whole grain to go with this. (My mom had never seen these before. These packets will be so much easier for her.)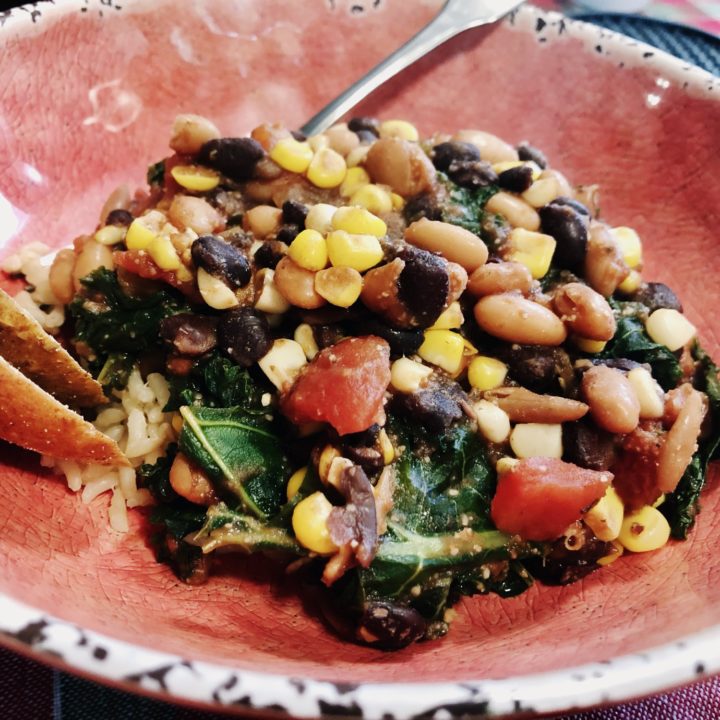 Easy Beans and Greens
It's not pretty, but it is tasty, cheap, and requires no chopping.
Ingredients
8 oz. frozen chopped greens (spinach, kale, collards, etc.) (226.8 g)
1 14 oz. can diced tomatoes (411 g)
3 cups cooked or 2 14 oz. cans beans (pinto, black, lentils, etc.), rinsed and drained if using canned (878 g)
1 teaspoon garlic powder (4.8 g)
7-8 oz. your favorite salsa (198.45 g)
1 cup frozen corn (165 g)
Ground black pepper, to taste
Instructions
Combine everything in a medium saucepan. Simmer over medium-high heat for about 5 minutes. Turn heat to low and simmer for about 10 minutes. Eat as is, over a whole grain, or with toast.
Notes
Nutritional information calculated using Cronometer. Used frozen kale, unsalted diced tomatoes, unsalted pinto beans, and Simple Truth mild salsa for the calculation. Your values may vary. Does not include grain or bread.
Salad
How very vegan of me planning salad! Honestly, I love salad. I just don't always love prepping them. Usually I have to prep all the veggies, make the dressing, and then make any protein toppings if it's going to be a full-meal salad.
I'll pick up a dressing at the market. 100% whole food plant based dressings aren't easy to find so I'll just get the best option available.
And for protein, I'll pick up a packet of tempeh or tofu. I enjoy either fried up in a pan with salt and pepper. If I'm feeling spunky, I can add some of the packet quinoa or brown rice mentioned above.
Hummus Pitas
Hummus with salad veggies stuffed in a whole wheat pita. 'Nuff said. Another nice light lunch is hummus with cucumber, carrot, and bell pepper sticks and some toasted pita bread.
Burgers in Pitas
If I'm going to buy a whole package of pitas I might as well use them! A two-pack of frozen burgers like Hilary's or Dr. Praegers will be plenty for this week. My mom will have some condiments. And I can get a side vegetable to go with it.
Veggie Topped Potato
Take a regular or sweet potato, scrub it, poke it with a fork all over, and pop in the microwave on high for 5-7 minutes. When it's done, microwave some frozen mixed vegetables until they're done. Put the veggies on the potato and sprinkle with salt and pepper.
(I ended up finding an almond based cheezy sauce at Kroger. We all had potatoes and broccoli topped with the cheezy sauce. Yum!)
Snacks
I should be keeping snacks to a minimum. I'll definitely pick up fruit like apples, oranges, and bananas. One of my favorite crunchy snacks is Popcorners, the sea salt flavor. They're available at a bunch of stores. I'll bring a few bars with me for hangry times. My current favorite are the bars from Nature's Bakery. They're a nice treat without heading completely into candy bar territory.
I hope this helped give you some ideas for entering the unknown of someone else's kitchen. If you have any additional tips that might help people in this situation, please share in a comment!