Maybe I'm weird, but I love a good chili any time of year. Part of that is because most chilis involve little prep work, clean up, and are perfect no-fuss weeknight meals. This Instant Pot Vegan Chicken Chili fits all those needs. And leftovers are even better! This recipe is perfect for meal prep and heats up beautifully in the microwave.
My go-to, crowd-pleasing chili is this Black and White Bean Chili. I've been making it for years. Everyone loves it, vegan or not. But sometimes you want something a little different.
This Vegan Chicken Chili is a little milder than the Black and White Bean Chili as written. If you want it spicier, use more cayenne and choose hot diced green chiles instead of mild.
Is this Chili recipe healthy?
I'm not giving medical advice, but nutritionally, this chili is a powerhouse. It's high in protein, iron, calcium, and fiber. It will certainly fill you up! And it definitely answers the question dreaded by all vegans "where do you get your protein?"
You'll notice the sodium is a little high as calculated. (See below.) If you need to lower the sodium, make sure to use beans and canned tomatoes with no added salt. You can also choose a lower sodium bouillon or stock.
This recipe contains no added oil and is gluten-free as long as your bouillon is oil and gluten free.
What's in the Vegan Chicken Chili?
Most of the ingredients for this recipe are pretty common. I will go over some of the more unusual ingredients that you might not be familiar with and also give you some variations to try.
Chicken-flavored Bouillon
My favorite vegan chicken-flavored bouillons are Better Than Bouillon No Chicken Base and Edward and Sons Not Chick'n. Better Than Bouillon has a lower sodium version of their vegetable base but neither are gluten-free. Edward and Sons has a lower sodium version of their Not Chick'n and both versions ARE gluten-free.
If you need the sodium even lower, you could try to use a broth that meets your needs and then add poultry seasoning to taste to make it more chickeny.
TVP (textured vegetable protein)
First, what is textured vegetable protein? It's a dehydrated soy product that has had some of the soybean oil removed. It usually is unflavored and will take on the flavors added to the dish.
For this recipe, you want chunkier pieces about the size of a piece of popcorn not the mince. The mince will work but it will disappear into the chili.
Another option is to use Butler Foods Soy Curls. These are similar to TVP but are instead made of whole soy beans. So no oil has been removed and nothing else has been added. They come in strips but you can break them into bite-sized pieces. In this recipe, it's a one to one substitution.
I also want to note that TVP should NOT be expensive! Check your local international market for the best price. Next, check your local co-op. And if all else fails, Amazon has it.
Great Northern Beans
I've used great northern beans here but your favorite white bean will work fine. Try navy beans or cannellini as a substitution. For lower sodium, use low or no sodium canned beans. Or, even better, cook the beans from dried yourself.
Now, honestly, you could also use black beans or pinto beans in this. Really any bean. But traditionally a chicken chili has white beans in it.
Diced Green Chiles
Mild, hot, Hatch, fire-roasted, or not - use your favorite green chiles in this dish. If you don't like foods spicy, stick to mild chiles. You can always add more cayenne or a hot sauce if you need more spice.
Nutritional Yeast
Nutritional yeast? What the heck is that? Nutritional yeast is a deactivated yeast that has a sort of cheesy taste. We use it all the time in sauces and dressings and as a sprinkle on potatoes or popcorn.
The nutritional part of nutritional yeast is B vitamins and some trace minerals. Some brands are even fortified with B-12 which many people should be supplementing, vegan or not.
Thankfully, it's become easier to find nutritional yeast in mainstream grocery stores. Look for Bob's Red Mill or Red Star brands. You'll always find it at places like Sprouts, Whole Foods, Natural Grocers, and your local co-op. It's usually cheaper if you buy it in bulk. You can also get larger bags of it online.
How do you make this chili?
The Instant Pot is one of my favorite kitchen tools. One of its best features is that you can sauté in it and then just add the remaining ingredients and pressure cook away. This means fewer dishes to clean up. Amen. (Procedures might be slightly different for other electric pressure cookers.)
If you don't have an Instant Pot and want to make this chili on the stovetop, the procedure won't be much different. Follow the recipe as for the Instant Pot and then when it says to put it at high pressure, instead bring to a boil and then reduce the heat to a simmer. Cook covered until the carrots are soft and the flavors have developed. It'll probably take 20-30 minutes. If too much of the liquid cooks off, add a little water a quarter of a cup at a time.
If you try it on the stovetop, leave a comment and let everyone know how it worked for you! Either way, this chili recipe heats up like a dream in the microwave which makes it perfect for meal prep.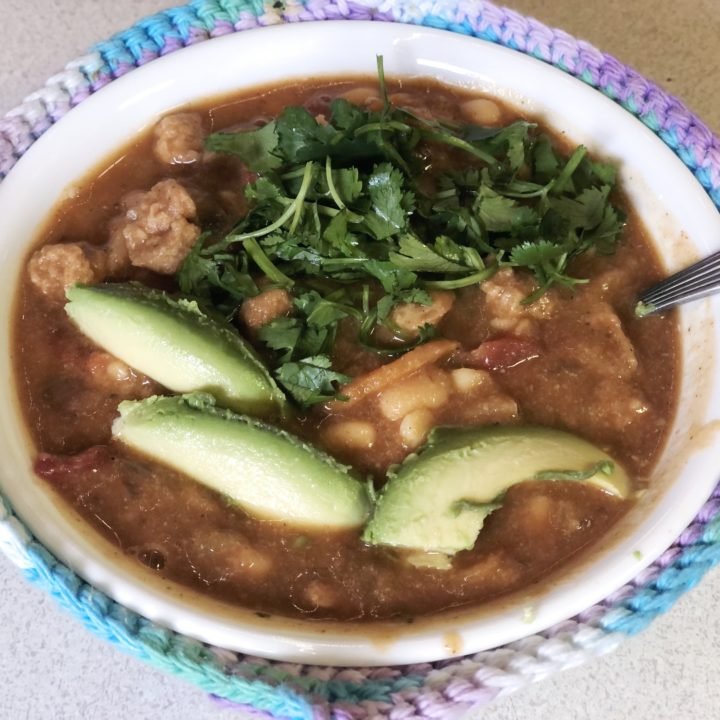 Instant Pot Vegan Chicken Chili
Additional Time:
10 minutes
This satisfying chili is packed with protein and fiber to keep you fueled up.
Ingredients
1⁄2 cup onion, chopped (80g)
1 1⁄2 teaspoon garlic, minced (4.25g)
1 1⁄2 teaspoon cumin powder (3g)
1 1⁄2 teaspoon chili powder (4.2g)
1 cup carrot, sliced (128g)
2 cans great northern beans rinsed and drained (2-425g cans)
1 14 oz. can diced tomatoes (411g)
1 4 oz. can diced green chilis, drained (113g)
1⁄4 teaspoon cayenne pepper (.7g)
1 teaspoon dried oregano (1.2g)
salt and pepper, to taste
1⁄4 cup fresh cilantro (24g)
1 small avocado (112g)
Instructions
Saute the onion in a tablespoon or two of water or stock on your pressure cooker's sauté setting on medium or normal until they begin to soften. Then add the garlic, cumin, chili powder, and carrot. Sauté a minute more.
Add the water, TVP, beans, diced tomatoes, green chilies, cayenne, and oregano to the cooker. Stir well. Turn off the sauté setting, put on the lid, and set at high pressure for 14 minutes and let the pressure release naturally. After 10 minutes you can release the remaining pressure if you are impatient.
Once the pressure indicator has dropped, stir in the nutritional yeast and season to taste with salt and black pepper. Garnish with fresh cilantro and avocado.
Notes
Look for TVP (textured vegetable protein) in pieces about the size of small popcorn. You don't one the small granules because they will disappear into the chili. Butler Soy Curls are also a good option. Break them into bite-sized pieces.
For the look of this chili, you want to use a white bean. Feel free to substitute navy beans or cannellini beans for the great northern beans.
Nutritional information was calculated using one Edward and Sons Not-Chick'n Bouillon cube. Added salt & pepper is not included in the calculation. As always, the nutritional analysis is only meant to be a guide. Calculations will vary with your ingredients.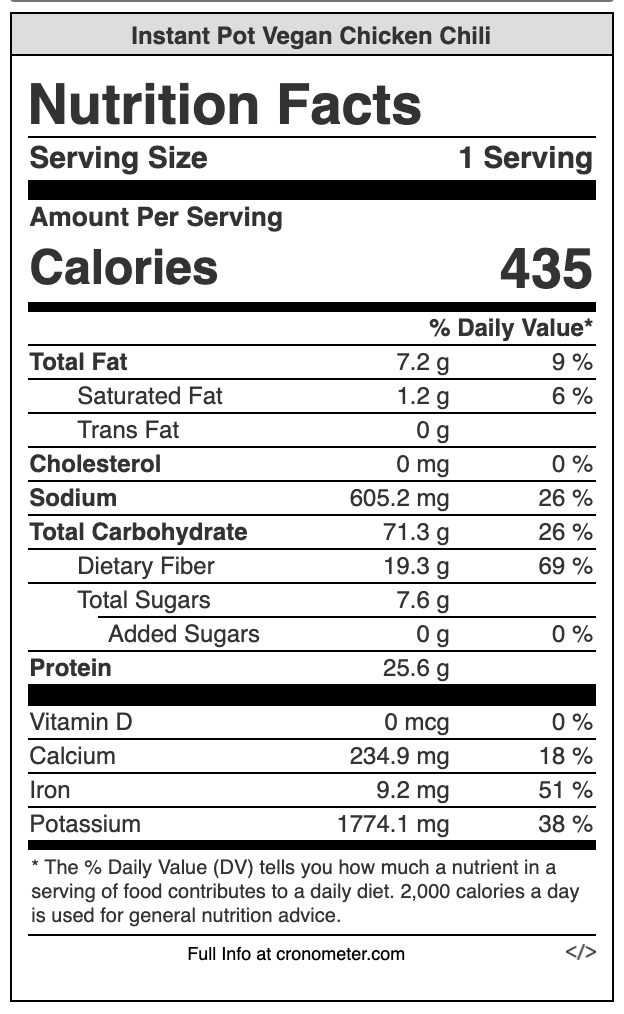 Recommended Products
As an Amazon Associate and member of other affiliate programs, I earn from qualifying purchases. Purchases through my links will not cost you any extra and contribute to supporting the costs of running this site.
Do you have a favorite chili that you've always wanted to see made plant-based? Let me know in a comment and I'll see if I can make that happen!