I'm addicted to oats for breakfast. There I said it. But sometimes I want a little something different. And that's where this Instant Pot Sweet Potato, Apple & Oats comes in.
This recipe is wonderful for cold fall or winter mornings. And if you want to meal prep this recipe, double or triple it! Then all you have to do is heat it up for a minute or so in the microwave, drizzle on the maple tahini sauce, and sprinkle it with walnuts. Boom, breakfast!
As the apples start coming to market, you'll be looking for ways to use them. I highly recommend that you put this recipe on your fall "to make" list.
If you're on a low-salt diet, no problem! This recipe is low-salt. It can also be gluten-free if you use gluten-free oats.
By the way, don't sleep on that maple tahini sauce. It might sound weird but ends up tasting almost like caramel. Yum!
Recipe inspiration
Recently I picked up the 30-Minute Whole-Food, Plant-Based Cookbook by Kathy Davis. (She also lives and travels in an RV!) I mean, who doesn't need more quick meal ideas?
One of the first recipes I tried was her Sweet Potato and Apple Breakfast Bowl. It was delicious! But it took closer to an hour to cook even though I diced the sweet potato really small. It probably isn't the recipe's fault. We are at high elevation right now and that can throw off cook times.
I also missed my oats. So much so that I made a half batch and divided them between us in our bowls. (I know, I have a problem.)
So I decided to make a few tweaks to this recipe so it better met my wants and needs. And that's how the Instant Pot Sweet Potato, Apple & Oats recipe was born.
How I changed this recipe
First, I moved this recipe from stove top to Instant Pot. To do that, I added more water to bring the total to 1 cup. This is the minimum amount of liquid recommended when pressure cooking in the Instant Pot.
Next, I altered the order in which some ingredients were added. For instance, Kathy has you add the cinnamon and raisins after cooking. I add them to the Instant Pot to cook with the apples and sweet potatoes.
I also swapped dates for the raisins because I always keep dates in the house, I may or may not have raisins around. Plus, we just like dates better.
And lastly, I add 1/2 cup of old fashioned oats to the Instant Pot.
Now, I will warn you that if you use quick cooking oats in this recipe, they might stick to the bottom or burn. (I know because that's what happened to me.)
You can fix this by adding an additional 1/2 cup of water to the recipe for a total of 1 1/2 cups. It might still stick a little but mine didn't burn at all. (I think my Instant Pot is so old that it doesn't have a burn warning message like the newer ones. Your mileage may vary.)
Another option is that you can cook the quick oats separately in the microwave (1/2 cup of quick oats to 1 cup of water on high for 2 minutes) and then add half the oats to each bowl and top with the sweet potato apple mixture.
Without further ado, here's the Sweet Potato, Apple & Oats recipe as made in the Instant Pot.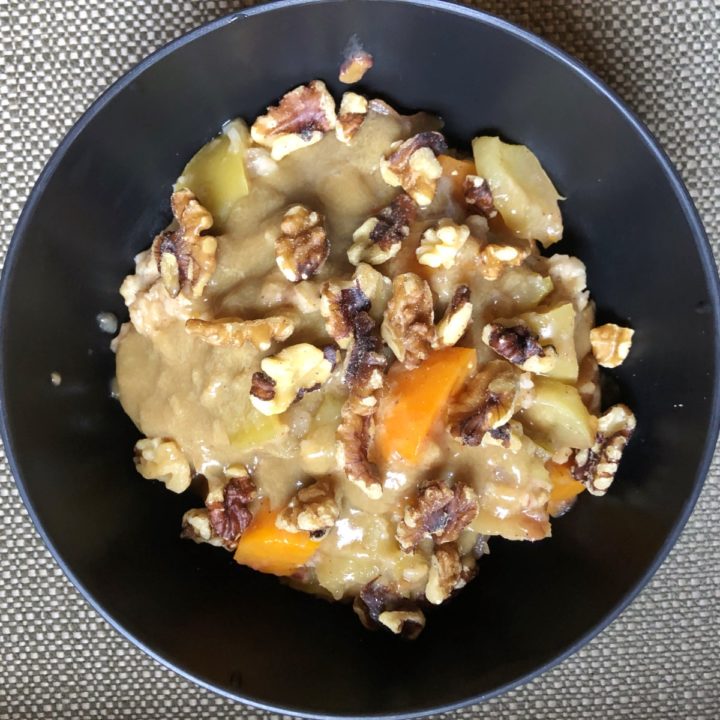 Instant Pot Sweet Potato, Apple & Oats
Additional Time:
10 minutes
A wonderful, warm Fall breakfast for when you need a break from your everyday oats.
Ingredients
2 tablespoons maple syrup (39.38g)
2 tablespoons tahini (30g)
1 cup water (240g)
1/4 teaspoon ground cinnamon (.21g)
1/2 teaspoon vanilla extract (2.17g)
1/2 cup old fashioned oats (41.69g)
1 1/2 cups sweet potato, quartered and sliced 1/2" thick, peeled or not, your choice (199.5g)
1 1/2 cups apples, 1/2" diced (187.5g)
2 tablespoons chopped dates (18.38g)
2 tablespoons walnuts, chopped (14.63g)
Instructions
In a small bowl, stir together the maple syrup and tahini until it is smooth. Set aside.
Add the water, cinnamon, vanilla, oats, sweet potato, apple, and dates to your Instant Pot insert. Seal the Instant Pot and cook on high pressure for 8 minutes and let the pressure release naturally.
When the pressure indicator has dropped (or, you can release the remaining pressure after 10 minutes), carefully remove the lid. Stir everything together and divide between two bowls.
Drizzle each bowl with half of the maple syrup and tahini mixture and sprinkle each with half of the walnuts.
Notes
Inspired by Kathy Davis' recipe in 30-Minute Whole-Food, Plant-Based Cookbook.
I peel sweet potatoes and leave the peel on the apples. You can peel or not depending on your preference. This is also not the place to use fancy, expensive apples.
Recommended Products
As an Amazon Associate and member of other affiliate programs, I earn from qualifying purchases. Purchases through my links will not cost you any extra and contribute to supporting the costs of running this site.
Are you an oats addict too? What's your favorite way to prepare them?