I love stuffed shells but would pass them by as a dinner option because it seemed like too much fuss. But did you know that you could skip the oven part and just make them on the stove top? These Vegan Skillet Stuffed Shells come together with minimal fuss because you can reuse the pasta pan for the shells. Less dishes? Sign me up!
What kind of pasta works in this dish?
Vegan Skillet Stuffed Shells was made for standard jumbo pasta shells and that's what I used. I think they're probably the easiest to stuff. But don't feel limited to that!
How about manicotti? Or, you could spread the ricotta mixture onto a lasagna noodle and roll it up.
If you're gluten-free, jumbo shells and manicotti are both available. If you can't find them at your local market, you can always order them online. In store, expect to pay $2.50-$4.
Do I have to make my own Tofu Ricotta?
Not at all! But it is very easy to do. And since ricotta is very mild, tofu subs in for it wonderfully.
I also like giving you the option to make your own ricotta because it will be cheaper and you can control the ingredients easier. I choose to make my own to avoid added oils.
If you'd like a short-cut, you can buy vegan ricotta. Look for it at places like Sprouts, Whole Foods, and your local co-op. Some well-stocked grocery chains carry it as well. It just depends on your area.
How can I meal prep Vegan Skillet Stuffed Shells?
This recipe is wonderful heated up later in the microwave so it's perfect for meal prep. And depending on your needs, you can prep some or all of it ahead of time.
One option is to cook the pasta and make the tofu ricotta ahead of time and refrigerate them. Then when you're ready to cook, start with sautéing the mushrooms and go from there.
Another option is to complete the recipe through stuffing the shells, refrigerate them, and then you just need to heat them up in the sauce for a quick meal.
Or, make the whole thing ahead of time, package it up, and take it for lunch. Tailor the prep to what works with your lifestyle.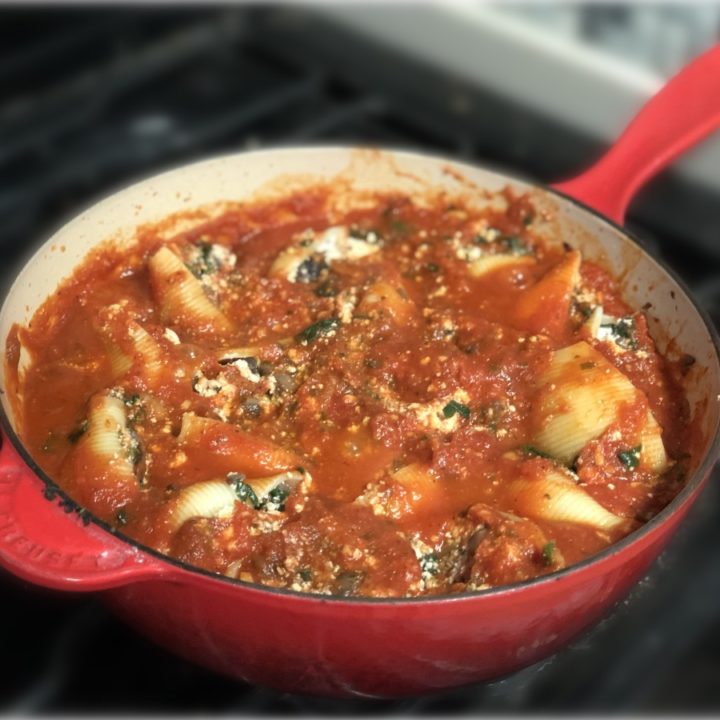 Vegan Skillet Stuffed Shells
Stuffed shells can be a bit of a production, but with a couple of shortcuts like storebought sauce and cooking them on the stovetop you can save a little time and reduce the dirty dishes.
Ingredients
1⁄2 lb. mushrooms chopped
1/2 teaspoon salt 
1/4 tsp. ground black pepper
1⁄2 cup red wine
5 oz. frozen spinach
6 garlic cloves minced
3 cups marinara sauce
1⁄2 tsp. crushed red pepper flakes
Tofu Ricotta
1 lb. extra firm tofu or firm, pressed and drained
3 tablespoons nutritional yeast
2 tablespoons lemon juice
1⁄4 cup fresh parsley minced (or 1 tablespoon dried)
1 1⁄2 tsp dried basil
1 tsp dried oregano
1/4 tsp garlic powder
1/2 tsp salt
1⁄4 tsp black pepper
Instructions
Cook the shells in a large pot of boiling water, stirring occasionally, until very al dente, about 9 minutes. Drain and rinse with cold water. Set aside.
Place a large non-stick skillet over high heat, add mushrooms, and cook, stirring occasionally, until they have released their juices and browned for about 5–6 minutes. Season with 1/2 teaspoon of salt and 1/4 teaspoon of black pepper.
Reduce heat to medium, add wine, and cook an additional 1-2 minutes. Add spinach, and cook until most of the liquid is evaporated. Transfer mushroom mixture to a plate and set aside.
Again heat the skillet over medium-high heat and add garlic, stirring occasionally, until garlic just begins to brown, 2–3 minutes. Add marinara sauce and red pepper flakes and bring to a simmer over low heat until warmed through, about 5 minutes.
While sauce cooks, make the tofu ricotta. Add the tofu to a bowl large enough to hold it and the mushroom mixture. Mash it with a fork or squeeze it through your hands until it resembles ricotta. Add the nutritional yeast, lemon juice, parsley, basil, oregano, garlic powder, 1/2 teaspoon salt, and black pepper and thoroughly combine. Fold the mushroom mixture and stir to combine. Spoon about 2 Tbsp. ricotta mixture into each shell. The shell should be full but not overflowing.
Place the stuffed shells into hot sauce in the skillet. Cover and cook over medium heat until shells are warmed through, 4–6 minutes. Taste and adjust seasoning if necessary. Serve with vegan parmesan, optional, to sprinkle on top.
Notes
To make gluten-free, use gluten-free pasta and make sure that your marinara is gluten-free.
Recommended Products
As an Amazon Associate and member of other affiliate programs, I earn from qualifying purchases. Purchases through my links will not cost you any extra and contribute to supporting the costs of running this site.
Nutritional information will vary due to specific ingredients used. While these values are as accurate as possible, they should only be considered a guide.
Honestly, this recipe is pure comfort food with healthful ingredients. It's a good one to make for the family or for open-minded skeptics.
Do you have a pasta dish that's a step above the standards like spaghetti in a red sauce or mac & cheese that you make all the time? What's your "company" pasta dish? Or, do you have one you need help making plant-base? I'll see how I can help!