When we're going to cover a long distance in a short time in our RV, I like to prep some easy meals ahead of time. For lunches, sandwiches are about as fast as it gets, especially when you prepare the filling, like this Curried Chickpea Salad, in advance.
If you're looking for a delicious meal that you can make ahead and eat on the go, this one's for you. It's not fussy. Just slap it between two slices of bread. If you want to get fancy, top it with lettuce and tomato.
Other ways to enjoy Curried Chickpea Salad
This salad also packs well for a work lunch so it's a wonderful recipe for meal prep.
And don't feel limited to making a traditional sandwich out of it. Try it as a wrap. Or, eat it topped on salad greens and add some of your favorite raw veggies.
Why Chickpeas (or Garbanzo Beans)
Image by Ulrike Leone from Pixabay
Why back when I didn't know that chickpeas and garbanzo beans were the same thing. So don't feel bad if you're just learning this from me now.
Why should you be eating chickpeas? They're delicious! But they're also nutritious. Here are just a few of their benefits.
NOTE: I am not a medical professional and nothing here should be considered medical advice. Please do your own research or seek advice from your doctor or registered dietician.
Fiber
Chickpeas are a good source of fiber, soluble and insoluble, which can help you feel fuller longer. Fiber also helps remove LDL ("bad") cholesterol from your body as waste. Oh, and it helps feed your gut microbiome.
Protein
Unless you are an athlete, your protein needs are probably lower than you think. To find out how much you need, multiply your weight in pounds by 0.36. One cup of cooked chickpeas contains about 15 grams of protein. And remember, all plants have some protein so if you want to find out exactly how much you're getting, use a tool like Cronometer to track your meals.
Healthy Fats
You've probably heard that you need Omega 3 fatty acids for heart health. Well, chickpeas contain alpha-linolenic acid (ALA) which is a type of Omega 3.
Micronutrients
Most people focus on macronutrients like carbohydrates, fats, and protein but getting a wide variety of micronutrients is also important. Chickpeas are a source of folate, zinc, copper, iron, and manganese.
Now that I've given you lots of reasons to make this, here's the recipe!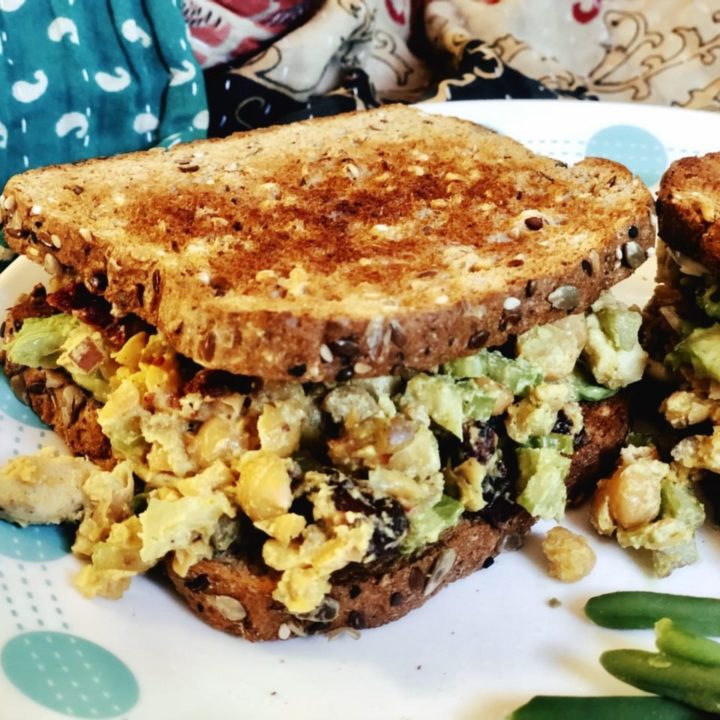 Curried Chickpea Salad
With a bit of sweetness from the raisins and crunch from the celery and cashews, this salad makes a satisfying sandwich filling and is also delicious on greens.
Ingredients
2 cups chickpeas, cooked, rinsed, and drained (304g)
1 teaspoon curry powder (2.1g)
1⁄2 cup raisins (72.5g)
1 cup celery, diced (120g)
1⁄4 cup cashews, chopped (34.25g)
1/4 cup red onion, minced (40g)
1/4 cup vegan mayo (64g)
salt and pepper to taste
Instructions
In a medium bowl, smash the chickpeas to your liking. I like all of them at least broken up if not completely pulverized.
Next, add the curry powder, raisins, celery, cashews, red onion, and mayo. Stir well to combine. Taste and season with salt and pepper to your taste.
Notes
I've been making my own oil-free vegan mayo with this recipe. If you're not a fan of raisins, dried cranberries are a wonderful substitution.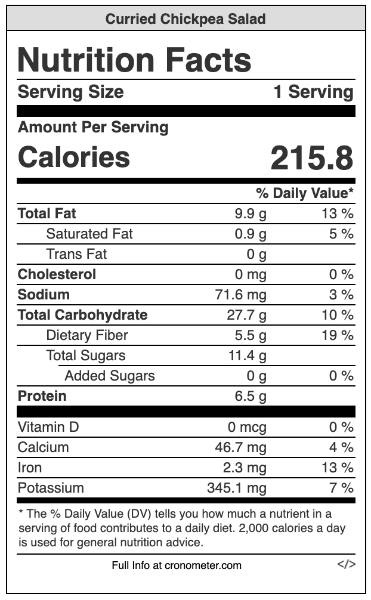 This nutritional information was calculated using Cronometer. The chickpeas entered were without salt and the mayo used was Follow Your Heart Soy-free Vegenaise.
Nutritional information will vary due to the specific ingredients used. While these values are as accurate as possible, they should only be considered a guide.
Recommended Products
As an Amazon Associate and member of other affiliate programs, I earn from qualifying purchases. Purchases through my links will not cost you any extra and contribute to supporting the costs of running this site.
Have you made this Curried Chickpea Salad recipe? I'd love it if you left an honest review! It helps me write better recipes and helps others decide if the recipe is right for them.