One of the things I want to do here at Meal Prep Maven is give you uncomplicated recipes with easy to find ingredients. This Instant Pot Mexican Lentil Soup falls in that category.
I came to this recipe out of pure need. The winter of 2020-21 we spent six months in a small town in the south of the Baja Peninsula. We could get some specialty ingredients in town but they were often expensive. So it was better to try to work with the local ingredients available most of the time.
As it turns out, the ingredients that were easy to find in small-town Mexico are also pretty easy to find elsewhere.
How is this soup different from lentil soup I'm used to?
Mexican Lentil Soup has a deceptively simple list of ingredients. It's not heavily seasoned and it doesn't need to be. The lentils are nourishing and the hot pepper gives it just a slight hint of heat.
What's in Mexican Lentil Soup?
Lentil soup is actually a staple in many Mexican homes. After searching online a bit I found the recipe at Dora's Table, but ended up making some changes. The original recipe called for 8 cups of water. 6 was plenty in the Instant Pot. You could even reduce that to 5 cups if you wanted a thick soup.
I also added the spinach for a nutrition boost. Fresh and frozen spinach is readily available in small-town Mexico. But even better, these ingredients are available in most places. So anyone can enjoy this simple and satisfying lentil soup.
Jalapeño peppers are the most common hot pepper we've seen in our travels. It's available in most grocery stores in North America that we've visited. If you see serrano peppers, they are delicious in this soup, as well.
I really like the flavor of lentils and didn't feel the need to cover it up with a flavorful stock. Instead, I use a small amount of stock in the water - a diluted stock, if you will.
The way I do this is to add either a bouillon cube or about a teaspoon of Better Than Bouillon to the pot. This will also allow you to get some flavor from the stock but reduce the sodium content.
What else could you add to this Mexican Lentil Soup?
If you want to pack this soup with more veggies, add a diced carrot and zucchini to the pot with the lentils. You could even add a diced regular or sweet potato. But honestly, the simplicity if this soup is what makes it shine, I like to keep additions to a minimum.
How nutritious is this soup?
Despite its low calories, this soup is filling. It's packed with fiber, protein, and iron. Combining Vitamin C rich foods, like the tomatoes, with iron rich foods, like the lentils and spinach, can help your body more easily absorb the iron.
This lentil soup is also oil-free, gluten-free, and low in sodium depending on if you use vegetable broth and how much salt you add to taste.
What if I don't have an Instant Pot?
You can make this soup on the stovetop, also. Follow the recipe up until sealing the Instant Pot. Instead, bring to a boil and then simmer, partly covered, over medium-low heat until the lentils are cooked, 30-40 minutes. Check the pot every 10 minutes and add more water a half a cup at a time if needed.
Once the lentils are soft, remove the bay leaf and pepper, if you used it whole. Add the frozen spinach and stir it in. Cook until heated through. Season the soup to taste with salt and pepper.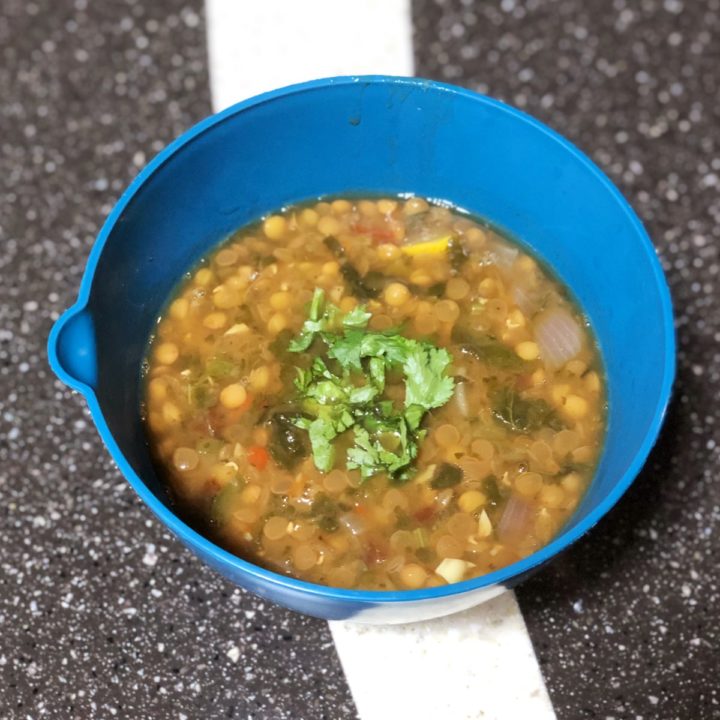 Instant Pot Mexican Lentil Soup
This dead-simple Instant Pot recipe is a fall favorite. It's packed with protein and can be as spicy or mild as you want it to be.
Ingredients
1 cup onion diced
2 Roma tomatoes diced
2 Garlic cloves minced
1 jalapeño pepper cut an "x" in the tip for mild or mince the pepper for spicy
1 1/4 cups dried green or brown lentils, rinsed and drained
6 cups water or vegetable stock
1 bay leaf
1⁄4 cup minced fresh cilantro including stems
1 cup frozen spinach
salt and pepper to taste
Vegan Parmesan, optional, as garnish
Instructions
Set the Instant Pot to sauté. Add the onions and cook for a couple of minutes adding water a tablespoon at a time to prevent sticking. Add the tomato, garlic, and jalapeño pepper and sauté for another couple of minutes.
Turn the Instant Pot off and add the lentils, water or stock, bay leaf, and half the cilantro. Use the cilantro stem end here and save the leafy parts to garnish at the end. Seal the Instant Pot and set it to cook at high pressure for 18 minutes. Let pressure release naturally for at least 10 minutes. After that, you can release the rest of the pressure if you're impatient.
Remove the bay leaf and pepper, if you used it whole. Add the frozen spinach and stir it in. Season soup to taste with salt and pepper. Top with a sprinkle of vegan parmesan, if desired.
Recommended Products
As an Amazon Associate and member of other affiliate programs, I earn from qualifying purchases. Purchases through my links will not cost you any extra and contribute to supporting the costs of running this site.
Nutritional information will vary due to specific ingredients used. While these values are as accurate as possible, they should only be considered a guide.
Are you a fan of lentils? Which kind is your favorite? I love red lentils because they cook the fastest.