People often think vegans are stuck eating sad salads because that's what's on offer at many restaurants. Salad is often an afterthought. Who thinks anemic iceberg lettuce, a few carrot shreds, and a couple of mushy tomato chunks is an appetizing meal? No one. I can guarantee that this Asian-Style Cabbage Kale Salad is the opposite of all of that.
When I eat a salad, I want it to be full of colors and flavors. The colors that make food visually appealing also each add their own nutrients. That's why so many doctors and dieticians recommend that you "eat the rainbow." It's much easier to think about than vitamins, minerals, and antioxidants.
Why kale instead of a lettuce?
There must be a joke in here somewhere about vegans and eating kale. But we love it! It's healthy, filling, and doesn't make your teeth feel weird like spinach does. It also holds up better in the refrigerator.
What other veggies could you use in the Asian-Style Cabbage Kale Salad?
And speaking of kale, don't feel limited to the vegetables listed in this recipe. Use what you have and what you enjoy.
A few other veggie options that would be delicious in this salad:
Substitute romaine or another sturdy lettuce for the kale
Try napa cabbage instead of the red cabbage
Beets, raw or cooked, are nice in here
Cucumber is a great addition
Need to use up some celery? Toss it in!
Summer corn fresh off of the cob
Radishes
I think you get the idea.
Do you massage the kale?
Sometimes I do massage the dressing into the kale and sometimes I don't. It just depends on how tender the kale leaves are. You can see in the photo at the top that I did not massage the kale that time but did in the photo just above this. It all depends on your preference. Massaging it will definitely make it easier to chew.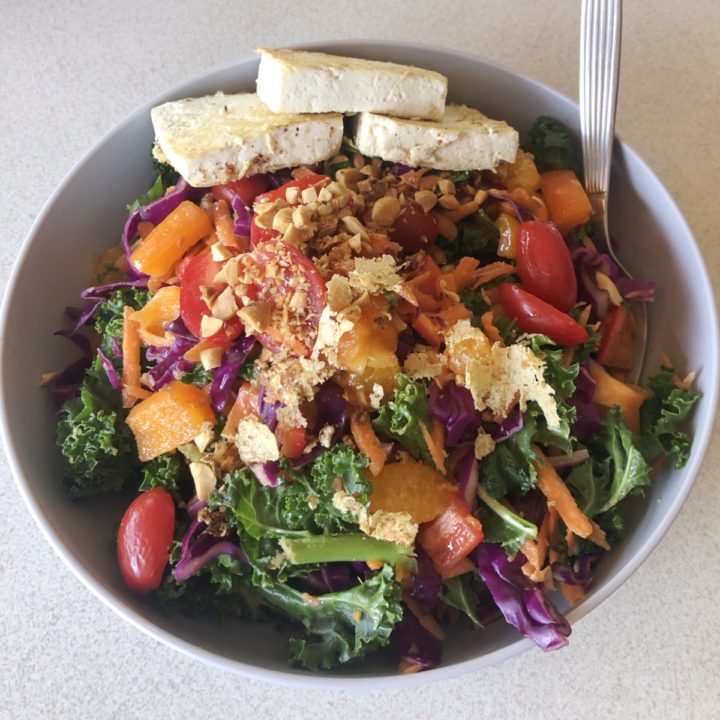 Asian-Style Cabbage Kale Salad
Yield:
2 meal-sized salads
This is one of our favorite warm-weather meals.
Ingredients
1 10.5 oz. can mandarin oranges packed in juice, not syrup (297g)
2 tablespoons rice vinegar (29.75g)
2 tablespoons Bragg Liquid Aminos, soy sauce, or tamari (31.13g)
1 tablespoon tahini (15g)
2 teaspoons agave nectar or maple syrup (14g)
2 tablespoons grated fresh ginger (12g)
½ teaspoon chili paste with garlic or sriracha (2.5g)
2 cups shredded red cabbage (140g)
2 cups kale, torn into bite-size pieces (41.2g)
2 cups shredded carrot (220g)
2 cups diced sweet bell pepper (red, orange, yellow, or purple) (298g)
1/2 cup grape tomatoes, halved (77.5)
¼ cup thinly sliced red onion, cut into 1-inch pieces (40g)
1/4 cup unsalted dry-roasted peanuts, chopped (65.5g)
2-4 oz. cooked tofu, optional
Instructions
In a large bowl mix together the reserved orange juice and ingredients through the chili paste or sriracha. Stir until well combined.
Add all the vegetables, the oranges, and ½ the peanuts. Toss until the vegetables are coated in the dressing. Sprinkle top with remaining peanuts and serve. If you need a bit more, add cooked tofu, tempeh, or edamame.
Notes
The dressing for this salad isn't super spicy, but if you don't enjoy a little heat just omit the chili paste with garlic or sriracha.
Recommended Products
As an Amazon Associate and member of other affiliate programs, I earn from qualifying purchases. Purchases through my links will not cost you any extra and contribute to supporting the costs of running this site.
Nutritional information will vary due to specific ingredients used. While these values are as accurate as possible, they should only be considered a guide. Optional tofu is not included in the calculation.
How do you feel about kale? Do you like it raw, cooked, or not at all?