What do you bring to a Friendsgiving potluck at an RV with limited kitchen facilities? If you're looking for options that don't need to be reheated or refrigerated this Autumn Black Rice Salad recipe is perfect!
Another reason this is a great potluck dish is that it is gluten-free. And, if needed, you can adjust the ingredients to accommodate other allergies or special diets.
I know it says "autumn" but that's because I decided to make use of some of the roots I picked up at the special pre Thanksgiving farmer's market. You could really pop all kinds of seasonal veggies into this salad. Use what's available and in season!
Ingredients for Autumn Black Rice Salad
The ingredients for this recipe are pretty simple. Here's what you need and then I'll talk about some of them and possible substitutions.
black rice
golden beet
parsnips
garlic
red onion
corn
carrots
lemon juice
cilantro
spices: cumin, oregano, thyme, salt & pepper
dried cranberries
toasted pumpkin seeds
Black Rice
You may have seen black rice in the store and wondered "what the heck to I do with that?" Here's something! Really you can use this wherever you would use rice.
The cook time and water required for black rice is about the same as long grain brown rice. In the Instant Pot, I cooked one cup of this black pearl rice with 1 1/2 cups of water on high pressure for 15 minutes. The rice still had a little chew to it which I like in a salad. If you want it softer, cook it a few more minutes.
If black rice isn't available to you, try wild rice for a similar look. Otherwise, use long grain brown rice, basmati rice, or whatever you have.
By the way, this one pound package was less than $4. It is more expensive than white or brown rice but shouldn't be $10/pound. If you want to avoid being price-gouged by the big A, try your local co-op, Sprouts, Natural Grocers, or even your regular grocery store.
Roasted Veggies
Image by Ulrike Leone from Pixabay
I used beet and parsnips because that's what I picked up at the farmer's market. Some substitutions that would also be delicious here: cauliflower, sweet potato, or any winter squash.
Lemon Juice
Fresh lemon juice will give the best flavor, but you can use bottled if that's what you have. When I made this in Mexico, I used lime juice because lemons aren't common in some places. It works perfectly.
Cilantro
Are you a cilantro hater or cooking for one? Swap it out for parsley instead!
Dried Cranberries
I used fruit sweetened dried cranberries that I find at Natural Grocers. In Atlanta I was able to find them at my local co-op. Unfortunately, all of the dried cranberries I've seen seem to contain some oil. Since the recipe only calls for a small amount, I didn't worry about it. If it's a concern for you, substitute dried raisins or fresh diced apple or pear.
Pumpkin Seeds
The toasted pumpkin seeds are delicious here but you could also use pecans, walnuts or sunflower seeds. Definitely toast them lightly though.
Preparation Notes
Since I was making three dishes for our potluck and it was an hour and a half drive, I made this dish in advance. On Tuesday, I made the rice, toasted the pumpkin seeds, and roasted the veggies. Then on Wednesday I finished the recipe and refrigerated the completed dish. Then all I had to do was grab it Thanksgiving morning.
If it works better for you, you can do it all in one day. This salad does benefit from spending some time in the refrigerator letting the flavors combine.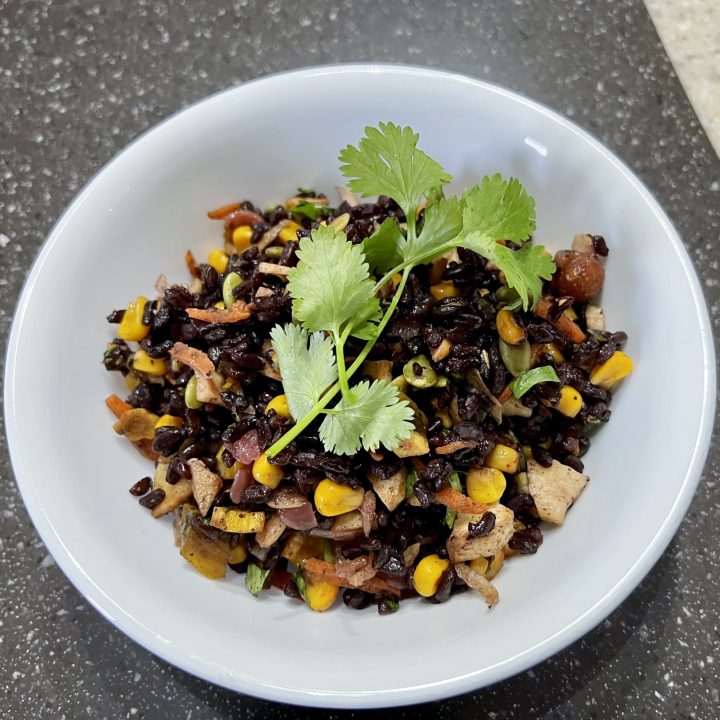 Autumn Black Rice Salad
This crowd-pleasing side dish is perfect for a potluck. It's great warm, cold, or at room temperature, my favorite.
Ingredients
1 med golden beet, diced and roasted
4 med parsnips, chopped and roasted
3-4 cloves garlic minced
1⁄4 cup red onion diced
1 cup frozen corn kernels thawed
2 carrots, grated
1⁄4 cup lemon juice
1⁄4 cup chopped cilantro leaves
2 teaspoons ground cumin
1⁄2 teaspoon dried oregano
1⁄4 teaspoon dried thyme
1⁄2 cup dried cranberries
Salt and freshly ground pepper to taste
1⁄4 cup toasted pumpkin seeds to top
Instructions
Cook the black rice according to package directions. Set aside. I cooked my black rice in the Instant Pot with 1 1/2 cups of water for 15 minutes at high pressure and let the pressure come down naturally.
While the rice is cooking, roast the parsnips and beets on a parchment-lined sheet pan at about 400ºF for 15 minutes, stir and roast an additional 10-15 minutes until softened. Set aside.
Add the garlic and onions to a large non-stick skillet and sauté over medium heat until they begin to soften, adding water a tablespoon at a time to prevent sticking. Add the corn and sauté just until warmed through.
Now add the cooked rice to the skillet. Turn the heat up to medium-high, then add the grated carrots, lemon juice, cilantro, cumin, oregano, thyme, and cranberries. Stir in the reserved roasted parsnips and beet. Keep stirring until everything is well-mixed and heated through. Season to taste with salt and pepper.
Serve with the toasted pumpkin seeds sprinkled on top. This is delicious warm, at room temperature, or even cold out of the fridge. It's perfect for a potluck! Feel free to substitute other veggies for corn, parsnips, and beet. A frozen mixed veggie blend would work here too.
Notes
You can use whatever rice you have but the black rice really gives it a dramatic look.
If you know you'll be short on time the day you plan to serve this dish, make the rice and roasted veggies ahead of time. The whole dish can be made ahead of time and refrigerated for a couple of days.
Recommended Products
As an Amazon Associate and member of other affiliate programs, I earn from qualifying purchases. Purchases through my links will not cost you any extra and contribute to supporting the costs of running this site.
Have you ever had black rice? If so, what was it in or how did you prepare it?