Do you like the taste of peanut brittle? These Salty Peanut Rice Crispy Treats are reminiscent of peanut brittle's flavor without the tooth-breaking crunch.
I have a terrible sweet tooth. So I'm always looking for treats that are healthier or at least not terribly bad. Bonus if they come together fast and don't destroy the whole kitchen.
Unlike traditional rice crispy treats these are made with better ingredients. While I wouldn't call them a health food, they definitely satisfy like the sweet treat you remember without many of the icky ingredients. And, as written, this recipe is vegan, gluten-free, and oil-free.
Why aren't marshmallows vegan?
Oh, it's worse than that. Standard marshmallows aren't even vegetarian. They're made with gelatin. Gelatin is made of collagen taken from animal parts like skin, tendons, ligaments and bones. You'll find it hiding in lots of random things like dry roasted peanuts and vitamins.
While that's the most disgusting ingredient, the rest aren't fabulous. Here's the ingredient list from a popular widely-available brand: "Corn Syrup, Sugar, Dextrose, Modified Cornstarch, Water, Contains Less than 2% Gelatin, Tetrasodium Pyrophosphate (Whipping Aid), Natural and Artificial Flavor, Blue 1" Yum.
Now, if you want to make a more traditional rice crispy treat, you can get vegan marshmallows. Look for Dandies. I see them in more and more stores. You should definitely be able to find them in places like Whole Foods, Sprouts, Natural Grocers, or your local co-op. Trader Joe's also has vegan marshmallows. (I'm pretty sure they're just Dandies in Trader Joe's packaging.) These also have cleaner ingredients: "Tapioca Syrup, Cane Sugar, Filtered Water, Tapioca Starch, Carrageenan, Soy Protein, Natural Vanilla Flavor."
Salty Peanut Rice Crispy Treats Ingredients
These treats don't use marshmallows at all. Here's what you need for these:
nut (or seed) butter of your choice
brown rice syrup
salt
gluten-free vegan crisp rice cereal (or other puffed grain cereal)
roasted unsalted peanuts
Brown rice syrup is the "glue" that keeps these treats together. I'm not going to lie. It's not the easiest thing to find. Here in Durango I had to go to four different places before I found it. It's always the last place you look! But, it is available on Amazon.
Any nut or seed butter will work for these. You can easily adapt this recipe to avoid specific allergens.
For the crispies, just make sure to choose one that is gluten-free if you want to keep the recipe gluten-free. If you don't need them to be gluten-free, you could try an interesting option like puffed kamut.
How do you make Salty Peanut Rice Crispy Treats?
This is the best part. They're so easy to make! There's no baking and you'll dirty minimal dishes.
First, you add nut butter, brown rice syrup, and salt to a bowl and warm it until everything is soft enough to mix smoothly together.
Next, stir in the crisp rice cereal and peanuts.
Finally, press it into a pan and refrigerate for at least 30 minutes to firm before cutting.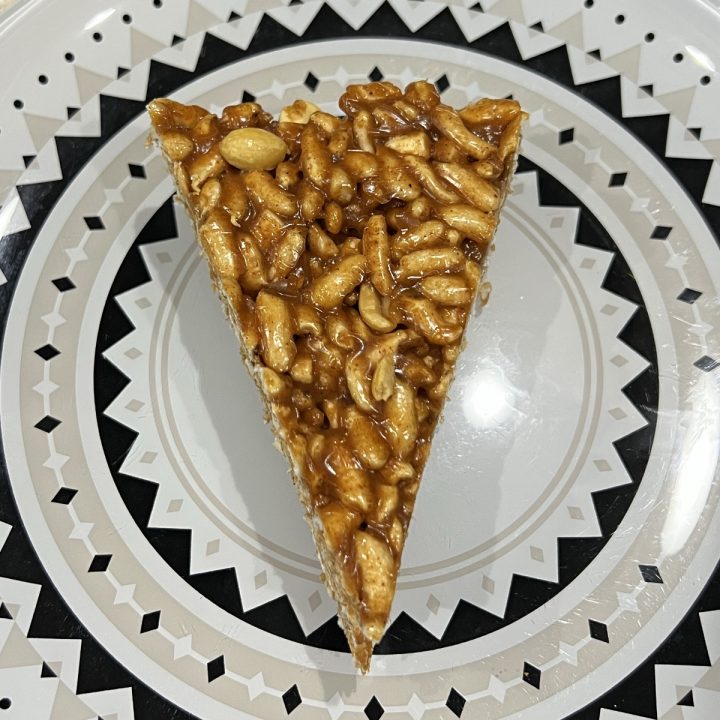 Salty Peanut Rice Crispy Treats
Additional Time:
30 minutes
Don't feel guilty about this sweet treat. It has no added oil is vegan and gluten-free.
Ingredients
1⁄2 cup unsalted nut butter
1⁄2 cup brown rice syrup
1⁄2 teaspoon salt
3 cups gluten-free vegan crisp rice cereal
1⁄3 cup roasted unsalted peanuts
Instructions
Line an 8-inch square baking pan or 9-inch pie pan with parchment or spray lightly with oil (if you use it.) Set aside.
Add nut butter, brown rice syrup, and salt to a microwave safe bowl. Microwave on high for 15 second increments stirring in between until it is completely blended and smooth.
Stir in the crisp rice cereal until everything is coated in the nut butter mixture. Add the peanuts and stir until they are evenly distributed.
Scoop the mix into the prepared baking pan. Press evenly into the pan packing it down so it won't come apart when you cut it. Refrigerate for at least 30 minutes to firm before cutting. Store in the refrigerator for best results.
Notes
Use whatever nut (or seed) butter you have on hand. I've tried it with almond butter and a mixed nut and seed blend. Don't feel limited to peanuts. Add in your favorite nuts, seeds, chocolate chips or dried fruit.
Adapted from this VegNews recipe.
Recommended Products
As an Amazon Associate and member of other affiliate programs, I earn from qualifying purchases. Purchases through my links will not cost you any extra and contribute to supporting the costs of running this site.
The nutritional information below was calculated with Cronometer using unsalted almond butter.
Are rice crispy treats a nostalgic food from your childhood? Do you miss them?