Did you have meatloaf growing up? We did from time to time. It's easy to prepare ahead of time and just pop in the oven to bake. It makes great leftovers. Heck, some people even make sandwiches out of it.
Traditional meatloaf usually has a base of ground beef and includes bread crumbs or crackers as a filler with eggs to bind and then various seasonings depending on the cook. But did you know that you can make a delicious loaf without meat or eggs or even fake meat?
This BBQ Lentil & Tofu Loaf will scratch your itch for meatloaf and doesn't contain a bunch of weird ingredients. You will find everything in your neighborhood chain grocery store.
The base of this BBQ Lentil and Tofu Loaf is made up of lentils, tofu, and oats. You season it up with celery, onion, garlic, condiments you probably have in your fridge, and herbs from your spice cabinet.
And it's so easy to tailor this recipe to your needs. To make it gluten-free, make sure your oats and condiments are all gluten-free. Bragg liquid aminos are gluten-free, tamari usually is, and soy sauce is not.
If you are following a whole food plant based diet, use the minimally processed versions of the condiments. For example Primal Kitchen makes unsweetened ketchup and unsweetened BBQ sauce. And neither have added oil. If you have the ingredients, I've also included a simple BBQ sauce that you can make instead of using prepared if you like.
This BBQ Lentil and Tofu Loaf is also a perfect meal prep recipe. It heats up wonderfully in the microwave. The dish is quite filling and we got six servings out of this recipe. It's low in fat, high in fiber and iron.
Some people need to follow a low-sodium diet. In that case, choose low or no-salt versions of the ingredients.
Because you can make this loaf recipe suitable for so many different diets, this is a wonderful recipe to bring to a gathering. Make it the centerpiece for your next holiday meal.
I like to bake this loaf in a 9" square pan because it cooks faster. If you really like the traditional shape, bake it in a bread loaf pan, but you will need to increase the cook time to 45-60 minutes.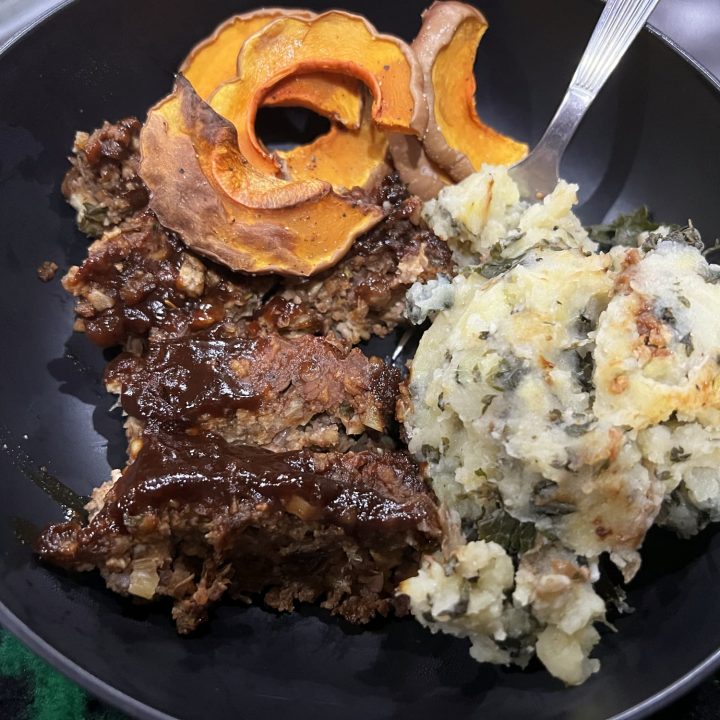 BBQ Lentil & Tofu Loaf
Whether you make this BBQ Lentil & Tofu Loaf as a family dinner or for meal prep, you won't be disappointed in this hearty, flavorful main dish.
Ingredients
Loaf
2 celery stalks chopped fine
1⁄2 onion chopped fine
2 cloves garlic minced
1 package firm or extra firm tofu 14-16oz., drained & pressed if firm
1⁄4 cup walnuts finely ground
1 1⁄2 cup cooked brown lentils (1 14-15 oz. can)
1 1⁄4 cup quick-cooking oats
3 tablespoon Bragg liquid aminos, soy sauce or tamari
2 tablespoon ketchup
1 tablespoon Dijon or brown mustard
2 tablespoons minced fresh parsley or 2 teaspoons dried
1⁄2 teaspoon thyme
1/2 teaspoon sage
1/2 teaspoon rosemary
3/4 cup prepared BBQ sauce or make your own, below
BBQ Sauce
1⁄2 cup ketchup
3 tablespoons maple syrup or agave nectar
1 tablespoon blackstrap molasses
1 1⁄2 teaspoon onion powder
1 teaspoon hot sauce
Instructions
Pre-heat oven to 375°F. Line a 9" square pan with parchment, use a silicon pan or insert, or lightly spray with oil, if you use.
If you are using the BBQ Sauce recipe here instead of store bought, mix all ingredients together in a small bowl until well-combined and set aside.
Add celery, onion and garlic to a small skillet and sauté over medium heat. Add water a tablespoon at a time to prevent sticking. Cook until vegetables have softened, about 5 minutes. Remove from heat and set aside.
In a large bowl, crumble tofu with your hands or mash with a fork. Stir in cooked vegetables and all remaining ingredients through rosemary until well-combined. It may appear to be light in color but will darken as it cooks. Press mixture evenly into pan.
Spread the prepared BBQ sauce evenly over the top of the mixture in the pan.
Bake for 30 minutes at 375ºF or until a toothpick inserted in the center comes out clean.
Notes
If you prefer, you can also cook this in a traditional loaf pan but it will take longer to cook, 45-60 minutes.
This recipe is gluten-free if you choose a GF option for the soy sauce, use certified GF oats and make certain that no other prepared ingredients contain gluten. To reduce sodium, use low or no sodium versions of the prepared products.
Pictured served with kale garlic mashed potatoes and roasted honey nut squash.
Nutrition information calculated using provided BBQ sauce recipe. Your results will vary based on specific products used.
Recommended Products
As an Amazon Associate and member of other affiliate programs, I earn from qualifying purchases. Purchases through my links will not cost you any extra and contribute to supporting the costs of running this site.
Did you grow up with meatloaf? How did you top yours? We had it topped with ketchup, but I've also seen it with a brown sugar glaze or a steak sauce glaze.