I haven't made many posts about meal prep because for the most part I don't do traditional meal prep. But now that Kevin goes to a co-working space every day, I've started prepping burritos for his lunches. And these BBQ Black Bean, Scrambled Tofu & Potato Burritos are one of his favorites.
I'm not going to lie. Each step takes a little time. So that's why I like to go ahead and make as many burritos as I can at a time. This recipe makes 8 burritos.
Are these burritos healthy?
While these aren't totally whole food plant based (they are vegan), there are aspects of the recipes that are healthier than if you relied on store-bought shortcuts. Or worse, restaurant burritos.
For example, making your own BBQ sauce like I do for these BBQ Black Beans really cuts on the added sugar and salt. And there's no added oil. The potato is just steamed in the Instant Pot. And the Scrambled Tofu is made without oil.
If you want to make them even healthier, use low-sodium soy sauce instead of the Bragg Liquid Aminos, skip the cheese, and use whole grain oil-free tortillas. If you need them to be gluten-free, use gluten-free tortillas or wraps. Or, skip the tortillas entirely and make bowls instead.
How do you make these burritos?
There are a few steps here. But since you are making these to eat later, you don't have to have everything warm and ready at once. You can even make the parts at different times and refrigerate them until you are ready to assemble the burritos. In that way, it's a pretty flexible recipe.
Cook the potatoes
Cook up your potatoes however you like. I like the texture of whole potatoes steamed in the Instant Pot. It's also easy to make extra potatoes for another recipe like I did here.
These I cooked on high pressure for 15 minutes and let the pressure release naturally for 10 minutes and then released the rest.
If I don't feel like washing the Instant Pot, I might microwave them. I never bake potatoes in the oven but that's an option. You could also cube and pan fry them.
Dice up the cooked potatoes and set them aside.
Make the Scrambled Tofu
Get your scrambled tofu ingredients together.
You can press the tofu beforehand but it isn't necessary. If it isn't pressed, you'll just need to cook it a little longer to evaporate the water.
When you're done cooking the scrambled tofu, it will look something like this.
Set the scrambled tofu aside.
Make the BBQ Black Beans
Get your BBQ Black Bean ingredients together.
When you're done cooking the BBQ Black Beans they end up covered in a thick sauce like this.
By the way, these beans are delicious and would make an amazing cookout side.
Assembling the Burritos
Now, gather up the Scrambled Tofu, BBQ Black Beans, potatoes, tortillas, cheese, and salsa.
Roll up your burritos. I put the ingredients down in this order: cheese, potatoes, scrambled tofu, BBQ black beans, and salsa.
Pan-fry the Burritos
This part is totally optional, but Kevin like them this way. It also helps seal the burritos.
My frying pan is no longer non-stick, so I have to spray it with a small amount of oil.
Then I just fry the burritos for a minute or two on each side until browned, starting with the "flap."
How do you reheat these burritos?
To reheat, place in an oven (a toaster oven works great) preheated to 400ºF for about 10 minutes for refrigerated and 20 for frozen.
You can also microwave the burrito. Place it on a microwave-safe plate and heat uncovered for about 30 seconds per side if refrigerated and 45 seconds per side if frozen. Check to see if center is hot and cook in additional 15 second increments as necessary. Exact microwave time will vary due to differences in appliances.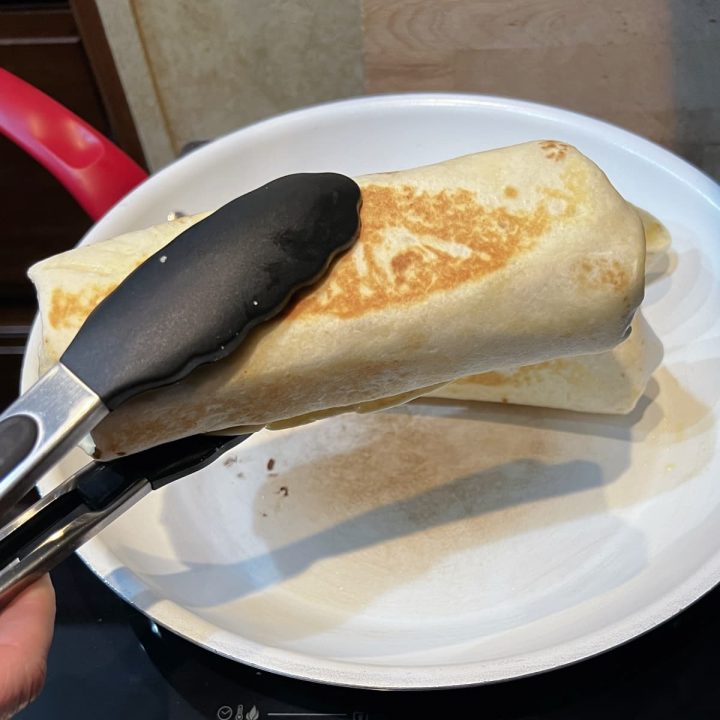 BBQ Black Bean, Scrambled Tofu & Potato Burritos
If you need to meal prep your lunches, try these BBQ Black Bean, Scrambled Tofu and Potato Burritos. You'll forget all about Taco Bell!
Ingredients
Scrambled Tofu
1 pound extra firm tofu or firm, (drained and pressed if necessary)
1/2 teaspoon garlic powder
1/2 teaspoon onion powder
1⁄4 teaspoon ground turmeric
freshly ground black pepper (to taste)
2 tablespoons Bragg Liquid Aminos (or soy sauce or tamari)
1/2 cup chopped frozen spinach
salt to taste, if needed
BBQ Black Beans
1 small red onion chopped
2 tbsp ketchup
1 tbsp molasses
1 tbsp dijon mustard
1 tbsp soy sauce
1 tsp brown sugar
1.5 cups canned black beans rinsed and drained
salt and black pepper
Remaining Ingredients
4 medium Yukon gold potatoes, steamed or baked
4 ounces shredded vegan cheese
8 large flour tortillas
1/2 cup salsa
Instructions
Scrambled Tofu
Crumble tofu into the pan. While the first side is browning, sprinkle in the garlic powder, onion powder, black salt, turmeric, nutritional yeast, and black pepper. Stir to combine.
Add the Bragg Liquid Aminos and frozen spinach. Stir every few minutes until spinach is completely warmed and tofu browns in places.
Taste and add salt if needed. Set aside.
BBQ Black Beans
Add the onion to a 2-quart saucepan or small skillet and cook over medium heat until soft adding water if necessary to prevent sticking.
Stir in the ketchup, molasses, mustard, soy sauce, sugar, and liquid smoke. Add the beans and cook stirring occasionally until hot and well mixed. Taste and add salt (if needed) and pepper. Set aside.
Potatoes
Dice the potatoes and set aside.
Assembly
Lay out a tortilla on a clean surface. Sprinkle about a tablespoon of cheese in the center. Add about 1/2 a potato. Next add 2-3 tablespoons of Scrambled Tofu. Now add 2-3 tablespoons of BBQ Black Beans. Top with 1 tablespoon of your favorite salsa. Wrap it up.
Optional: Lightly spray a non-stick pan with oil. Brown burritos on each side. Let cool.
Storage
Place burritos in a sealed container in the refrigerator for 4-5 days. Alternatively, freeze burritos on a cookie sheet and store in a zipper bag. Or wrap individually and freeze.
Reheating
To reheat, place in an oven preheated to 400ºF for about 10 minutes for refrigerated and 20 for frozen.
Notes
You can skip the black salt and use regular salt if you don't have any but it does give the scramble that eggy flavor.
To make these closer to whole food plant based, replace the brown sugar with half a chopped medjool date, skip the cheese, and use whole grain oil free tortillas like Food for Life Ezekiel 4:9 Sprouted Grain Tortillas. You will need to warm whole grain tortillas up before attempting to fold them. And skip oil if you pan-fry the rolled burritos.
Recommended Products
As an Amazon Associate and member of other affiliate programs, I earn from qualifying purchases. Purchases through my links will not cost you any extra and contribute to supporting the costs of running this site.
Are you a burrito fan? What are your favorite burrito fillings?