Raise your hand if you're a chocolate fiend. I am, for sure. To keep my cravings in check, I've got to have snacks on hand that will keep me happy like these Chocolate Almond Balls.
What's in Chocolate Almond Balls?
There are only six ingredients in this recipe and none of them are "weird."
Oats
I love raw oats. If you've ever enjoyed eating raw oatmeal cookie dough, you're going to love these. Choose gluten-free oats if you want to make this recipe gluten-free.
Maple Syrup
Maple syrup is tastiest in this recipe but I know it can be prohibitively expensive in some places. Agave syrup would be a good substitution.
Almond Butter
We usually keep almond butter in the house because we both like peanut butter too much and will definitely overeat it. Any nut or seed butter will work in the recipe. Try peanut butter for the classic chocolate-peanut butter combination. Sun butter is tasty as well.
Cocoa Powder
Do you need natural or dutch process cocoa powder? In this recipe, it doesn't matter because we're not using any rising agents. You can read more here if you're curious about the difference between natural and dutch process cocoa powder.
If you're interested in avoiding chocolate produced by slavery or child labor, I would also recommend checking out the Food Empowerment Project's Chocolate List.
Below are a couple that are on the "okay" list.
Salt
Use whatever. I just used iodized table salt.
Chocolate Chips
Mini chips are nicer in this recipe but standard ones are fine, too. Again, check Food Empowerment Project's list to avoid chocolate from regions known to use slavery and child labor. A couple of options available on Amazon are KakaoZon and Pascha.
How do you make these balls?
There's no baking involved! Just mix everything together in one bowl, roll them into balls, and store them in the refrigerator or freezer. If you keep your nut butter in the refrigerator, you may want to bring it to room temperature or soften it in the microwave before you begin to make mixing it up easier. I like to keep them in the freezer.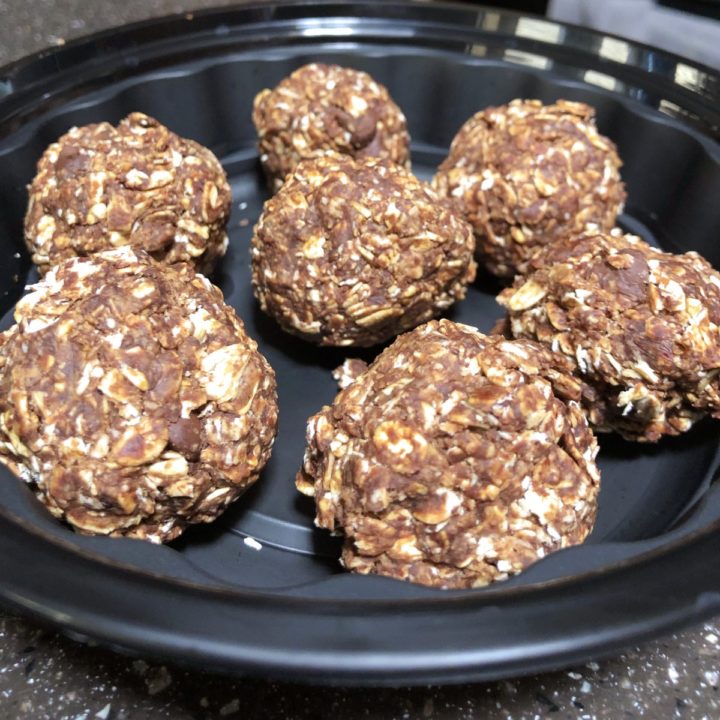 Chocolate Almond Balls
This tasty treat will kill that chocolate craving without giving in to a sugar bomb.
Ingredients
1 cup old fashioned rolled oats (83.38g)
2 tablespoons maple syrup (39.38g)
2 tablespoons cocoa powder (10.75g)
1/8 tsp salt (.82g)
Instructions
If your almond butter is coming straight out of the refrigerator and is stiff, microwave it for 15 seconds or so just to soften it. Or let it come to room temperature.
Add all the ingredients together in a medium bowl. Mix until everything is incorporated.
Grab mixture by the tablespoon or so and roll into balls.
Store in a sealed container in the refrigerator for a week or so or in the freezer for up to three months, like they'll last that long.
Notes
I use almond butter that only contains almonds. If you can get mini chocolate chips they will mix in easier.
Recommended Products
As an Amazon Associate and member of other affiliate programs, I earn from qualifying purchases. Purchases through my links will not cost you any extra and contribute to supporting the costs of running this site.
When dessert is presented, do you go for the chocolate one like I do?