You know what's so great about hummus? Its versatility. The mildness of chickpeas especially allow you to add in whatever seasonings float your boat. This Hummus That Tastes Like Thanksgiving is a great example.
To make hummus taste like Thanksgiving, I just added the seasonings to it that you would normally use for stuffing or dressing. And it worked like a charm!
I dare you to dip into this and not immediately think of Thanksgiving.
A Plant-Based Thanksgiving Appetizer
How do you serve this recipe? Enjoy it like you would any hummus.
Serve Hummus That Tastes Like Thanksgiving with crackers, veggie sticks, or mini toasts.
Put it out at any gathering around the holidays and wait for people's reactions.
What's in Thanksgiving Hummus?
The ingredients for this recipe are easy to keep on hand for last minute gatherings. Onions and garlic are the only fresh ingredients. The canned chickpeas, tahini, and herbs will all come from your pantry.
How do you make this hummus?
This hummus recipe comes together quickly. First, you sauté the onion and garlic until soft.
Mix a little Better Than Bouillon paste into the aquafaba, if using. I used the vegetable base instead of no chicken because that's what I had on hand.
Then you put everything in the food processor and whir it up until smooth.
And then, scoop it into a container and refrigerate it for at least 30 minutes before serving to give time for the flavors to develop.
But, it's also delicious right away if you don't have that kind of time.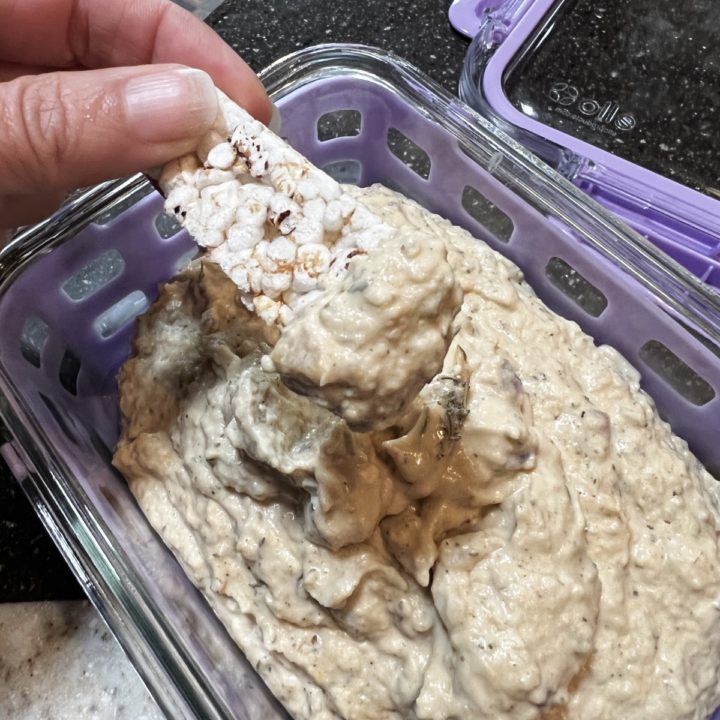 Hummus That Tastes Like Thanksgiving
Additional Time:
1 minute
A fun appetizer for holiday gatherings, this hummus has all the flavors from your favorite stuffing inside.
Ingredients
1 small onion diced
2 cloves garlic minced
1/4 cup aquafaba, mixed with 1/4 teaspoon Better Than Bouillon, optional
1 (15-ounce) can chickpeas, or about 1 1/2 cups home cooked
1 teaspoon dried rosemary
1 teaspoon dried sage
1 teaspoon dried thyme
1⁄2 teaspoon salt
1⁄4 teaspoon ground black pepper
Instructions
Sauté onion and garlic in a small non-stick pan for about 5 minutes until onion is soft. Add water a tablespoon at a time to prevent sticking. Set aside when done.
Measure out 1/4 cup of the aquafaba from your can of beans (the liquid in the can) into a small bowl. Add a scant 1/4 teaspoon of Better Than Bouillon broth paste and mix well, if using. Set aside. Drain off the remaining aquafaba from the chickpeas and save for another recipe or discard.
In the bowl of a food processor, add the softened onion and garlic, aquafaba, tahini, and spices. Process the chickpea mixture until smooth stopping occasionally to scrape down the sides and incorporate the bits stuck there.
For maximum flavor development, transfer to a bowl or storage container and refrigerate at least 30 minutes before serving.
Notes
The Better Than Bouillon is optional but will give a little flavor boost. You can also use some powdered chicken-style broth granules if that's what you have or omit it entirely.
Recommended Products
As an Amazon Associate and member of other affiliate programs, I earn from qualifying purchases. Purchases through my links will not cost you any extra and contribute to supporting the costs of running this site.
Do you like hummus? Are you a purist, plain is your favorite, or do you enjoy adding different seasonings and flavors?