If you grew up celebrating Thanksgiving, you probably had a similar set of dishes for that meal every year. One of the most common dishes on the Thanksgiving table is stuffing or dressing.
Fortunately, it's really easy to make vegan stuffing. If you are making a bunch of dishes for your holiday meal, you could probably use a shortcut or two. Stuffing is a recipe that lends itself well to using a mix. And it might be easier than you think to make it vegan.
Making stuffing for a small family
Since we're just two people, I like to make enough food for my Thanksgiving meal to have leftovers, but not so much that I don't have room for them in my refrigerator. This easy vegan stuffing recipe is made with that in mind.
This stuffing recipe makes about 4-6 servings. If you're two people, you will have leftovers. For 4-6 people, you may have little to no leftovers.
If you will be having a bigger gathering, it is easy to double this recipe. That will also have you using the whole bag of stuffing mix.
This vegan stuffing only has 5 ingredients
When you're making a large holiday meal, it really helps if some of your dishes are easy and require little prep. This recipe only has 5 ingredients:
vegan butter
onion
celery
vegan chicken-flavored broth
dry stuffing mix
You probably know where to get onion and celery so I'll focus on the other ingredients in case you're new to eating vegan.
Vegan butter
Yes, vegan butter is a thing! Most grocery stores will carry at least one option.
Earth Balance was one of the original vegan butters. They have a few different formulations available. Most chain grocery stores in the U.S. carry this.
If you want to go fancy, Miyoko's has several options. We really like their oatmilk butter. Some grocery have this but you might have to go to a Whole Foods or natural foods market depending on your area.
Mainstream brands have hopped on the vegan trend, too. I Can't Believe It's Not Butter has vegan-labeled products and Country Crock has plant butter that is certified plant based (yes, it's also vegan). Each says vegan or plantbased on the label. Both websites have store locators. I was able to find the Country Crock in a chain grocery near me.
Vegan chicken-flavored broth
First, if you only have vegan vegetable broth that isn't chicken flavored, that will be fine. But if you make chicken-like meals often, you might want to stock your pantry with a vegan chicken broth. There are two brands that I use most often:
Better Than Bouillon has jars of No Chicken concentrate paste that you just mix with hot water. I like it because it dissolves easily and has excellent flavor. Do beware: this brand also has products that are not vegan. This does need to be refrigerated after opening. Many chains carry this brand but they don't often have all the vegan flavors.
The other brand I use is Edward and Sons. They have vegan not chick'n bouillon cubes in regular and low-sodium. These are nice because they are shelf-stable. But it does take a little work to get them to mix with water. I tried their store locator and it definitely wasn't accurate for my area. You may find these in standard grocery stores but you're more likely to see them in specialty stores. You can also order them from Amazon.
Dry stuffing mix
You can probably find a better stuffing mix at your local health food store, Sprouts, Whole Foods, Natural Grocers, or somewhere similar. But I wanted to make this recipe as accessible as possible.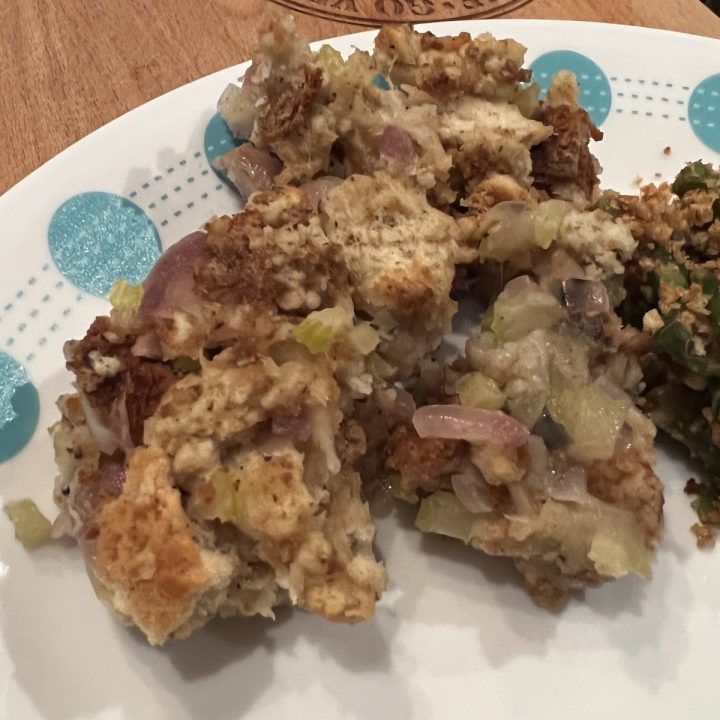 Classic Stuffing Made Vegan
Shortcut stuffing made with a store-bought mix.
Ingredients
2 tablespoons vegan butter
1⁄2 cup diced onion
1⁄2 cup diced celery
1 cup vegan chicken-flavored broth
Instructions
Preheat oven to 350ºF. Grease a 1-quart casserole dish or oven-safe pan that will hold that much.
While the oven is heating, melt vegan butter in a two-quart saucepan over medium-high heat.
Add onion and celery and continue cooking until they are softened but not browned.
Add the broth and bring to a boil. Remove the pan from heat and stir in the stuffing mix.
Place the stuffing into the prepared dish. For a crisp top, bake uncovered for 35 minutes at 350ºF. If you prefer is soft, cover before baking.
Recommended Products
As an Amazon Associate and member of other affiliate programs, I earn from qualifying purchases. Purchases through my links will not cost you any extra and contribute to supporting the costs of running this site.
How about you? Is stuffing a must have on your holiday table or are you more of a mashed potatoes person?