As I'm writing this, we are about to end our five month stay in Los Barriles, BCS, Mexico to slowly head back to the United States. After sitting still for so long, I now have to think about meal prep for on the go.
When researching for new recipes to add to my travel meal prep options, I ran across this recipe over at Forks Over Knives and it intrigued me. Little tostadas baked in muffin tins? Sounds amazing! They also looked like a good candidate for a quick reheat on a driving day.
Chickpea flour is often used to simulate an omelet or frittata but I don't have any on hand right now. But what I do have is some Follow Your Heart Vegan Egg. And it could certainly work as a replacement in this recipe.
Spoiler alert: it did!
What is Vegan Egg?
By the way, I put these Amazon links so that you can see the product in addition to it being an affiliate link. Please don't pay $12 for this unless you have no other choice. Even at Whole Foods it's only $7.99.
There are actually a few different vegan egg products available these days. Not so much in small town Mexico, though. So don't expect to find the Follow Your Heart Vegan Egg in stores here.
This product is mostly soy milk powder, a bunch of gums, and seasoning. It's best feature is that it comes in a powder and is shelf-stable. We love stuff like that for the RV.
In our household, we have mixed feelings about the Vegan Egg product. Kevin enjoys it scrambled up plain. I think it tastes nice but comes out kind of squeaky.
But there are a few places where this Vegan Egg shines. It's awesome for french toast. It makes a thicker batter that kind of puddles a little around the bread. Try this if you hate soggy french toast.
When we first bought the Vegan Egg, there was a recipe for Quiche Florentine on the package. Follow Your Heart doesn't seem to have that recipe on their website any more, but I found someone else posted it here. This recipe is also delicious.
I think the takeaway is that this product works best as a supporter rather than the lead in a recipe, in my opinion.
Possible replacements for the Vegan Egg
Since I am in Mexico at the time of writing this, my resources are limited. But I do plan to come back and update this recipe with some other options once I have the time and can get the ingredients. And if you see this before I do that it'll give you some options to play with.
Silken Tofu
Silken tofu blended with some cornstarch and seasonings makes a great omelet like substance. I will definitely be testing that theory here since silken tofu is shelf stable and easy to keep around.
Just Egg
Just Egg would be the super simple option to use in this recipe. It is a refrigerated product but has become pretty widely available across the U.S. Kroger carries it for $4.99/bottle. I'm looking forward to getting back so I can experiment with it in meal prep recipes.
Chickpea Flour
And honestly, I want to try chickpea flour like as the original recipe was written. But for this I'll probably wait until I can buy exactly what I need from a bulk bin. This flour can spoil and I don't have room to keep it in my RV refrigerator or freezer if I'm not using it regularly.
Other ingredients and possible substitutions
Some people are comfortable making on the fly substitutions in recipes. You guys can slide right past this section. But I wanted to spell out some possible substitutions for people that are newer to cooking or just aren't sure what can be changed.
It's really handy to get comfortable with making substitutions for when you can't find an ingredient at the store, it just isn't available where you are, or you are looking to save money.
Red Bell Pepper
The red bell pepper is nice for its pop of color, but use any color bell pepper you like. Poblano pepper would also be wonderful here.
Sweet Potato
If sweet potato isn't your jam, use russet, yukon gold, or red potatoes instead.
Black Beans
Here's another opportunity to use what you've got. Black beans are great but if you've already got pinto beans, lentils or another legume that you need to use up, by all means use it here.
Corn Tortillas
Corn tortillas are nice because they're almost always vegan and oil free. But if you like flour tortillas better, use them. Just choose the smaller ones that are similar in size to corn tortillas. Otherwise they won't fit in the muffin tin.
Follow Your Heart Vegan Egg
I talked about some possible options above. I plan to retest this recipe using some of them. If you're interested in one of those or a different option, drop a comment below and I'll let you know when I've got an update.
Chipotle Chile Powder
Chipotle chile powder gives you a smoky bit of heat. But it's not always easy to find.
I usually stock chipotles in adobo which is a canned product, whole chipotles in a sauce. They're normally stocked in the international aisle in your supermarket or wherever you would normally find Mexican ingredients. You could try 1/2-1 teaspoon of one of these chiles as a substitute. I freeze the remainder of the can so I almost always have chipotle in adobo available.
You could also use a standard chili powder blend here. If you still want the smokiness, add 1/4 teaspoon of smoked paprika or liquid smoke.
How and when to serve Mini Frittata Tostadas
Appetizer
These Mini Frittata Tostadas are a fun snack to serve at your next gathering. Provide a toppings station with guacamole, salsas, chopped onions and cilantro for your guests to customize theirs to their liking.
Lunch or Dinner
Two or three of these frittatas make a delicious main dish. For the nutrition calculation I'm using a serving of 3 tostadas cups. Add salad or veggies as a side.
Meal Prep
We're not eating all twelve of these in one sitting. To reheat, pop them in an oven preheated to 375ºF for 10 minutes. A toaster oven would probably work just fine.
Microwaving probably isn't ideal, but might get the job done. You might be better off having them at room temperature. I mean, quiche is often served at room temperature, right?
Okay, that's enough yammering. Let's get on to the recipe.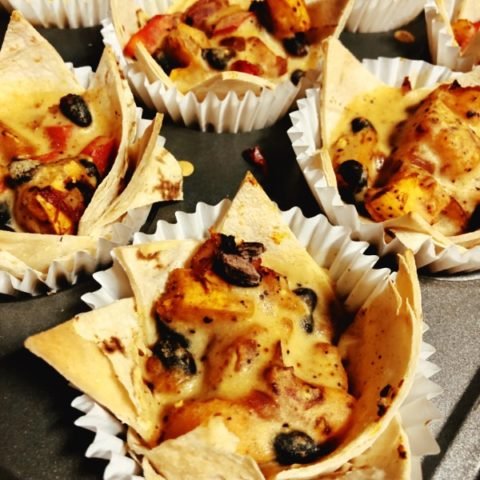 Mini Frittata Tostadas
These little tortilla cups are filled with all your favorite Mexican flavors. Serve them as appetizers or make-ahead as part of your meal prep for the week.
Ingredients
½ cup chopped red bell pepper (74.5g)
¼ cup chopped onion (40g)
1 tablespoon minced garlic (8.5g)
1½ cups cooked ½-inch cubes sweet potato (264g)
3/4 cup cooked black beans, rinsed, if canned, and drained (180g)
12 6-inch corn tortillas, each cut into 6 wedges
¾ teaspoon ground cumin (2.1g)
½ teaspoon salt (3g)
½ teaspoon black pepper (1.4g)
2 cups ice-cold water (473.18ml)
1 cup fresh salsa or pico de gallo (236.59ml)
Fresh cilantro, chopped, for garnish (optional)
Instructions
Preheat oven to 350°F. Line twelve 2½-inch muffin cups with cupcake liners. In a medium skillet cook bell pepper, onion, and garlic over medium heat for 3 to 4 minutes or until just tender. Add water a teaspoon at a time to prevent sticking, as needed. Remove from heat and stir in sweet potato and black beans.
Arrange six tortilla wedges, a whole tortilla's worth, in each prepared muffin cup with curved edges at the bottom and points up. (Each should look like a crown.) You do not need to make sure the muffin cup is covered. The Vegan Egg will fill it in and hold everything together. Put about ¼ cup bean mixture into each cup.
In a medium bowl whisk together the Vegan Egg powder, nutritional yeast, cumin, chile powder, salt, and pepper. Gradually whisk in the ice-cold water until smooth. Alternatively, mix everything together in a blender. Pour about 2 tablespoons of the Vegan Egg mixture over bean mixture in each cup.
Bake 20 to 25 minutes or until filling is set. Carefully remove cups. Serve with salsa or pico de gallo and cilantro (if desired).
Notes
If you don't have a cooked sweet potato handy, it's easy to microwave one. Scrub your potato and poke it all over with a fork to pierce the skin. This lets the steam escape so your potato doesn't explode. For one sweet potato, microwave on 100 percent power for 5 minutes, rotating halfway through. Or, if your microwave has a baked potato setting, use that. (That's what I do.) If the potato isn't fork-tender at the end of the cooking time, continue cooking in one-minute increments until it is.
To reheat, preheat oven or toaster oven to 375ºF. Reheat uncovered for 10 minutes. You can reheat in the muffin cups but they may stick a little.
This nutritional information was calculated using Cronometer. Your results may vary depending on your ingredients. This is meant to be a guide only.
Adapted from this recipe at Forks Over Knives.
Recommended Products
As an Amazon Associate and member of other affiliate programs, I earn from qualifying purchases. Purchases through my links will not cost you any extra and contribute to supporting the costs of running this site.
And that's it - the very first recipe posted here at Meal Prep Maven! I would absolutely love to hear about your experience if you make it. Let me know how it went in a comment! Even better if you made some delicious changes to suit your tastes.