You know it's going to happen. You're going to arrive home tired and hungry. This Korean Dumpling Stir-Fry was made for those times.
I'm just like you. I don't always want to spend an hour chopping, prepping, and cooking a meal. But I also don't want to either spend the money or calories on a meal out.
This recipe is the happy medium. It tastes like delicious take-out but comes together in less than 20 minutes.
How did this recipe come to be?
We were in Walmart (they have the best price on frozen blueberries) and we always look for new vegan products when we grocery shop. Kevin found these Nasoya Vegan Korean BBQ Vegetable Dumplings in their little plant-based section by the produce. They were $3.98.
The ingredient list wasn't too bad. The sodium is high but not outrageous. And while it does contain oil, it's pretty minimal. The whole package is 540 calories. Nutrition wise, these are no worse than the occasion veggie burgers we have as quick meals.
I saw a recipe recently that used Trader Joe's gyoza, frozen vegetables, and bottled sauce to make a similar stir-fry. But since these were Korean BBQ flavored, I thought I'd try them with a sauce I use on noodles sometimes. I mean, dumplings are just noodle dough stuffed with tasty bits, right?
And again, Walmart, has a frozen stir-fry mix that's not bad. The 20 ounce bag contains Broccoli, Carrots, Cauliflower, Sugar Snap Peas, White Corn, Mushrooms, Water Chestnuts, Red Peppers for $2.33.
Paying for Convenience
I'm not going to lie. When Kevin first showed me the dumplings I thought they were expensive. I can't help it! It's in my nature.
But sometimes it's worth paying a little more for convenience especially when you consider that your time is worth money. And in the end, when you add everything up, even the kimchi, our meals turned out to be less than $4 each. Not bad for a decently healthy, tasty meal that comes together fast.
Korean or Korean-inspired
Note: I in no way claim that this is an authentic Korean dish. It would probably be more accurate to call it Korean-inspired.
The sauce in this recipe is inspired by Rose at Cheap Lazy Vegan. If you're not familiar with her, she really makes Korean dishes accessible.
The heat level of the sauce will really depend on how hot your gochujang is. If you're concerned about it being too hot, start with half of the gochujang paste, taste, and add more if it needs more heat.
If you want to make this even faster, you can get a prepared Korean Gochujang Chili Sauce like this one. It's a good way to try this out without investing in all the other ingredients. If you do decide to use the pre-made sauce, you'll need about 1/3 cup.
Ingredients for Korean Dumpling Stir-fry
Everyone keeps different ingredients in their pantries. Here's a little more information about some of the more unusual ingredients in this recipe and tips on where you can find them.
Gochujang
Gochujang is a spicy, sweet, and savory fermented paste that is used often in Korean dishes. It's usually, if not always, vegan. You can even find brands that are specifically marked vegan, like the one I've got linked below.
You should be able to pick up gochujang at any asian market. If you don't have an international market near you, Whole Foods had several options our last visit there. Occasionally I'll see it at mainstream grocery chains. For example, Kroger has it at some stores.
If all else fails, you can order it online. Amazon has a few options. You can even get gluten-free gochujang if you need it.
Rice Vinegar
Rice vinegar is a staple in my pantry. It's in almost every asian sauce or dressing that I make. It's not as sharp as white vinegar and has a milder taste than white wine vinegar.
Look for the regular rice vinegar not the seasoned one. Seasoned rice vinegar has added salt and sugar. Marukan is the brand I see most often and it happens to be gluten-free.
Rice vinegar isn't hard to find at all. Check your regular grocery store. It might be in the international aisle if the store has one. It's also at all the places I mentioned above and, of course, Amazon has it.
Tahini
Tahini is another one of my pantry staples. I use it often to replace oil in dressings and sauces. It's not traditional in this recipe at all. Tahini is replacing the sesame oil here. It's also a crucial ingredient if you make your own hummus.
Most grocery stores carry at least one option for tahini. I always get one that is just ground up sesame seeds with no added oil.
Dumplings, Gyoza, or Potstickers
It was just a happy accident that we found Korean BBQ flavored dumplings at Walmart. Regular vegetable dumplings, gyoza, or potstickers would all work here just as well.
Annie Chun makes vegan shiitake and vegetable potstickers that you'll find in the frozen aisle. Trader Joe's often has them. Asian markets will usually carry some vegan options.
If you have any questions about any of the other ingredients, drop a comment below and I'll be happy to answer!
Now, on to this recipe-so-easy-it's-almost-embarrassing-to-call-it-a-recipe.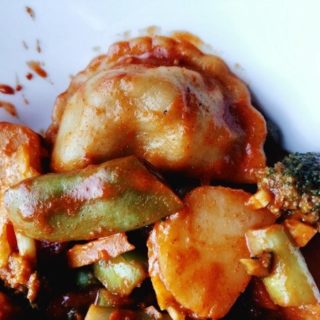 Korean Dumpling Stir-Fry
A unique way to use prepared dumplings or potstickers, frozen veggies, and a quick sauce you stir together to make a delicious, fast, weeknight meal for two.
Ingredients
Sauce ingredients
2 tbsp gochujang (34g)
1 tbsp soy sauce (17g)
2 tbsp rice vinegar (30g)
1 teaspoon maple syrup or agave nectar (5g)
1 1⁄2 teaspoon minced garlic or 3/4 teaspoon dried (4.25g raw, 2.5g powdered)
1 tbsp water (14.8g)
8 ounces frozen stir-fry vegetables (226.8g)
1 9 oz. package Nasoya Vegan Organic Korean BBQ Vegetable Dumplings (255g)
kimchi
Instructions
Mix sauce ingredients together until smooth and set aside.
Add vegetables to a large skillet over medium-high heat. Stir-fry until almost tender, 3 to 5 minutes. Add water a tablespoon at a time if needed to prevent sticking.
Move the vegetables into a pile on one side of the pan and place the potstickers flat side down in a single layer in the open space. Pile the veggies if you need to make more space. Fry for 3 minutes. Add a splash of water, cover, and steam for 3 minutes.
Add the sauce, toss everything to coat, and serve. Enjoy with a side of kimchi, if desired.
Notes
This nutritional information was calculated using Cronometer. If you need to reduce the sodium, choose a low-sodium soy sauce.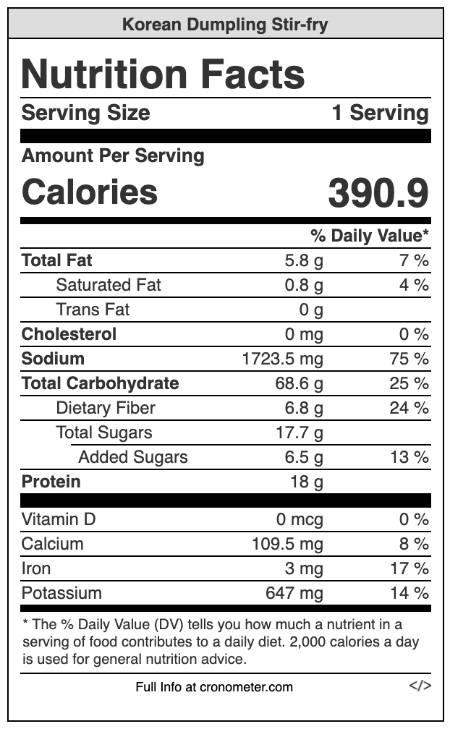 Nutritional information will vary due to the specific ingredients used. While these values are as accurate as possible, they should only be considered a guide.
Recommended Products
As an Amazon Associate and member of other affiliate programs, I earn from qualifying purchases. Purchases through my links will not cost you any extra and contribute to supporting the costs of running this site.
What's your favorite convenience food that's also kind of healthy?